Caleb Azumah Nelson's anticipated debut novel, Open Water, revolves around two young Black British artists in South East London, "trying to make their mark in a city that by turns celebrates and rejects them." Homegoing author Yaa Gyasi describes the novel as "tender poetry, a love song to black art and thought, an exploration of intimacy and vulnerability between two young artists learning to be soft with each other in a world that hardens against black people."
Here is a description from its publisher, Penguin Books:
Two young people meet at a pub in South East London.

Both are Black British, both won scholarships to private schools where they struggled to belong, both are now artists – he a photographer, she a dancer – trying to make their mark in a city that by turns celebrates and rejects them.

Tentatively, tenderly, they fall in love. But two people who seem destined to be together can still be torn apart by fear and violence.

At once an achingly beautiful love story and a potent insight into race and masculinity, Open Water asks what it means to be a person in a world that sees you only as a Black body, to be vulnerable when you are only respected for strength, to find safety in love, only to lose it.

With gorgeous, soulful intensity, Caleb Azumah Nelson has written the most essential British debut of recent years.
Open Water appeared on several "anticipated" lists of 2021, including Guardian UK's and New Stateman's.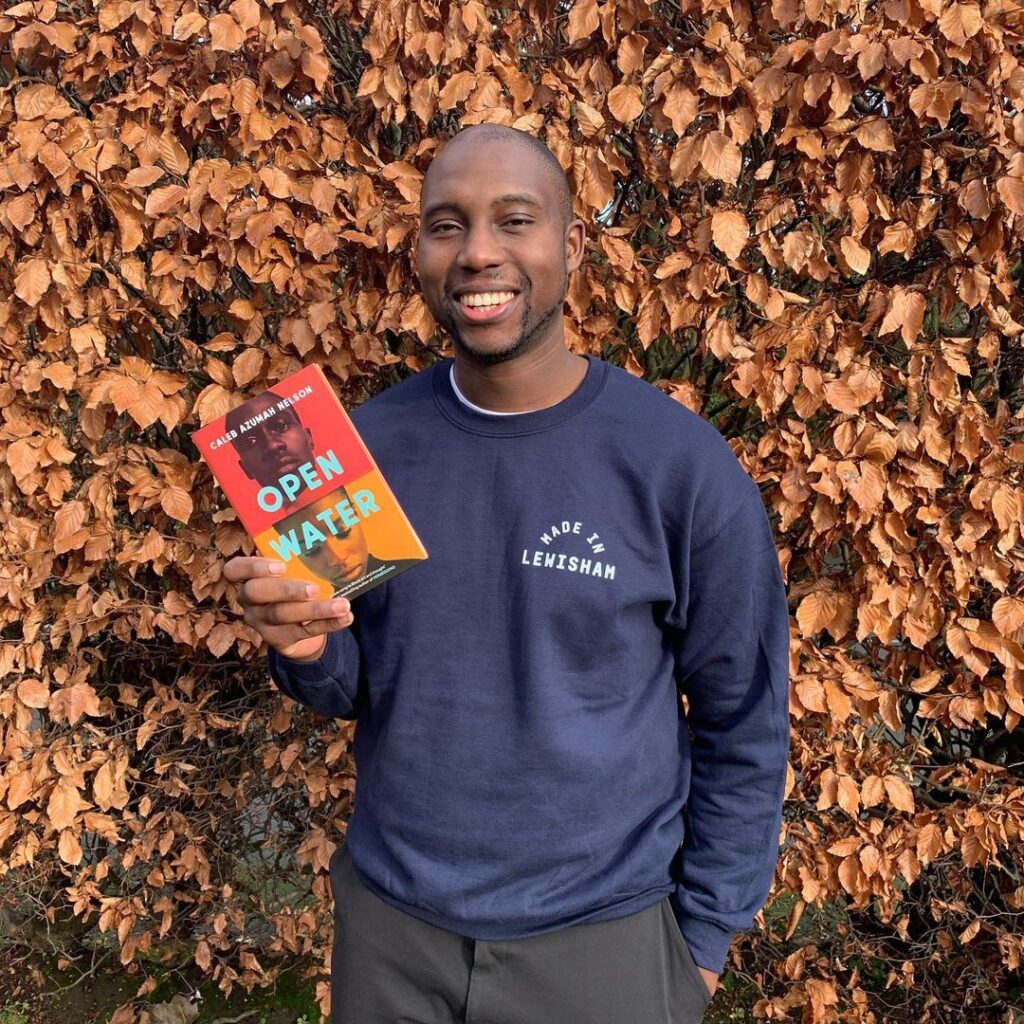 Caleb Azumah Nelson is British Ghanaian, a photographer, and finalist for the BBC Short Story Award. His work has been featured in Litro. He was recently shortlisted for the Palm Photo Prize and won the People's Choice prize.
"Open Water is a love story but it's also an ode to everything I love: South East London and books, music and photography, film and fine art," Caleb Azumah Nelson told Penguin in a release interview. "I wanted to write a book which read like an album, like music, so musicians such as Kendrick Lamar and Solange and J Dilla were instrumental to the conception of the book."
He spoke of the title of the novel to Bad Form Review. "I am obsessed with water," he said, "specifically open water—my family is Ghanaian, on both sides. My grandma is from Cape Coast which, obviously, has a quite troubled history, and on my dad's side they were slaves that were taken from Ghana to Brazil, and when they came back to Ghana they settled on a place that literally translates to 'the mountain over the water.' And so, I don't know, I feel like it's in my blood."
Open Water is out from Penguin Books, from 4 February 2021, in hardback, eBook, and audiobook.