Margaret Busby, the Ghanaian-born writer, editor, broadcaster, and literary critic who became Britain's first Black female publisher and at the time its youngest, has been chosen by the London Book Fair to receive its Lifetime Achievement Award, meant for "an individual who has made a truly significant mark in the sphere of global publishing." This comes two years after the Royal African Society honoured her with its Africa Writes Festival Lifetime Achievement Award, for her long campaign for diversity in publishing.
The Bookseller reports that it will be the Fair's first in-person event since the lockdown last year. It will be an invitation-only ceremony in London.
Busby's most recent major work is 2019's New Daughters of Africa: An International Anthology of 20th- and 21st-Century Writing by Women of African Descent. Covering the literary canon from 1900, it features 200 contributors, including Evaristo, Smith, Nawal El Saadawi, Chimamanda Ngozi Adichie, Andrea Levy, Aminatta Forna, Diana Evans, Sarah Ladipo Manyika, Warsan Shire, Imbolo Mbue, Ayesha Harruna Attah, Panashe Chigumadzi, and Yewande Omotoso.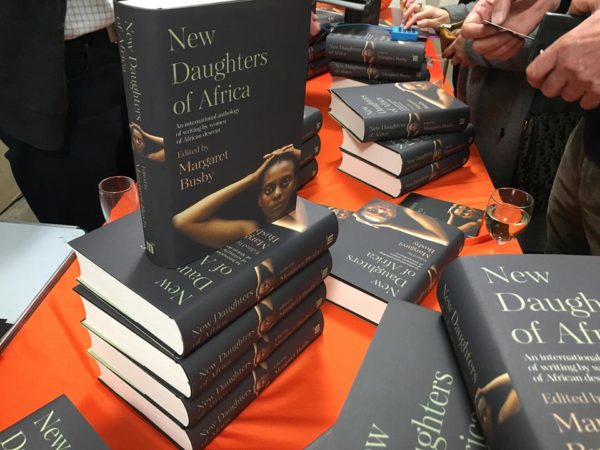 It is the follow-up to 1992's Daughters of Africa: An International Anthology of Words and Writings by Women of African Descent from the Ancient Egyptian to the Present, which reshaped perceptions of Black female writers' impact in literature.
"It was such a pleasure to receive this news, the import of which is only gradually sinking in," Busby said. "To have been nominated and then chosen for such a prestigious award is an immense honour and very humbling. What a roll-call of predecessors! Sad to realise that some of those I interacted with over the decades—such as Sonny [Mehta], Peter [Mayer] and Deborah [Rogers]—are no longer with us, but inspiring to know that so many others are still fighting the good fight. I am so grateful to remain connected to the industry's journey.
"Thank you to all my colleagues and friends, and those who have walked with me over the decades on paths less trodden, helping to forge exciting international links and collaborations between authors, editors and booksellers. Throughout my career, I have published and worked with many incredibly fine writers, and I have been fortunate to be part of their ongoing success. My life in publishing was conceived while I was at university, not yet of age, and since that pre-dates the venerable London Book Fair, I can bear witness to how far that has come. Thank you, LBF, for all that you do, and thank you again for this amazing award."
Born in 1944, in Accra, Busby, who received an OBE honour, is considered "the doyenne of Black British publishing." After graduating from Bedford College, London University, she wrote drama for BBC radio and the stage, dramatizing the works of Wole Soyinka, Henry Louis Gates, Timothy Mo, Walter Mosley, Jean Rhys, and Sam Selvon.
In 1967, she co-founded, with Clive Allison, a small press called Allison & Busby, which made her the UK's first Black female publisher. She was the press' editorial director for 20 years, overseeing the release of, among other important books, Buchi Emecheta's Second-Class Citizen, Sam Greenlee's The Spook Who Sat by the Door, C.L.R. James' The Black Jacobins, and George Lamming's The Pleasures of Exile. Her authors included Nuruddin Farah, Andrew Salkey, Rosa Guy, Michele Roberts, Miyamoto Musashi, Michael Moorcock, Jill Murphy, and Val Wilmer.
In the last two decades, Busby sat on the judging panels of the Independent Foreign Fiction Prize, the Commonwealth Book Prize, the OCM Bocas Prize for Caribbean Literature, the Caine Prize, and the Wole Soyinka Prize.
She was a patron of the Etisalat Prize for Literature and serves as ambassador for the SI Leeds Literary Prize. She has served on the boards of the Africa Centre in London, the Royal Literary Fund, Wasafiri magazine, Tomorrow's Warriors, and Nubian Jak Community Trust. An honorary fellow of the Royal Society of Literature, she has received the Bocas Henry Swanzy Award and the Royal Society of Literature's Benson Medal.
"Every single person of colour working in publishing today is standing on the shoulders of this amazing woman," said Ellah P. Wakatama, editor-at-large at Canongate. "Margaret Busby epitomises US vice-president Kamala Harris' advice: 'You may be the first to do many things, but make sure you are not the last'. Margaret blazed trails and brought down barriers. And with her gentle encouragement (fierce when it needs to be) and her capacity for bringing people together, she is my inspiration and so often my place of solace. I cannot think of anyone in my professional sphere who has made such a culture-defining difference."
London Book Fair director Andy Ventris said: "I am absolutely delighted that Margaret Busby is the recipient of this year's Lifetime Achievement Award. Margaret is a savvy publisher, a truly inspiring cultural figure, and an incredibly important champion for diversity. As Britain's youngest and first Black woman publisher, she laid the ground for generations to come, and is still one of the most respected voices in publishing today. Margaret is such a worthy recipient and I am so pleased that we will be able to honour her achievements at LBF's first in-person event since the pandemic struck. This is truly a cause for celebration, and I look forward to welcoming our guests to the presentation ceremony."
Last year, the award went to Nigel Newton, founder and CEO of Bloomsbury. 
Margaret Busby will receive hers on 2 July.