Editor's Note: I have always wanted to teach a workshop for new African writers, editors, journalists, and curators. Because I am self-taught, I know how difficult it is to innovate without examples, so I wanted to share what I have learned. But I also did not want to charge applicants because it would defeat the point of creating access, so I had to wait until now. I am happy that Africa No Filter sees my vision for this and is funding it.
— Otosirieze
We are excited to make our first call for submissions for a new kind of fellowship for African curators.
The Open Country Mag Curatorial Fellowships, sponsored by Africa No Filter, aims to provide direct motivation, technical knowhow, and funding support for new projects in a range of artistic fields: literature, film, music, visual art, photography, fashion, and media.
From a pool of applicants, we will select four curators for workshops, during which they will be guided by three experienced curators whose works span media, literature, film, fashion, activism, art, tech, and music. The three are Lumen Prize-winning interdisciplinary artist Minne Atairu, A Nasty Boy founder and Forbes Africa 30 under 30 changemaker Innanoshe Akuson, and Open Country Mag editor and Future Award Africa winner Otosirieze.
On the recommendation of the workshop instructors, we will then activate selected project ideas, offering two of them $2,000 each and the other two $1,000 each to finalize them. Open Country Mag will showcase the projects on our website, with the Fellows holding the copyright.
We are looking for two kinds of project ideas:
Projects that are groundbreaking endeavours in single fields (say, literature alone, film alone, or art alone)
Projects that cross two or more fields (say, literature and visual art, film and music, fashion and tech and photography)
We do not want to limit your innovation, so all formats of projects and ideas are welcome: an art exhibition, a musical retrospective, a journalism series, a fusion of fashion and tech, a blend of literature and photography — anything is welcome.
The projects can focus on any African country or region or can be continental.
Application Process
Eligibility
Applicants must be African
Applicants must already work in the artistic fields they propose to curate in
It would be ideal, but not mandatory, for applicants to have a track record of successful curatorial work
Factors
Applications, even if covering non-Anglophone countries, must be in English
Applicants must be prepared to deliver their project within 6 months or, depending on need, a year after workshops
Submission Guidelines
Our submissions window opens on May 2, 2023.
Our deadline for applications is July 2, 2023.
Format for Application Email
Header:
OCM Curatorial Fellowship Application 2023
Body of Email:
Name of curator:

Title of project:

Field(s):

Geographical reach (country/region/continent):

Description of project (750 words max.):

Potential impact or significance (250 words max.):

Links to previous or related work (250 words max.):

Bio of curator(s) (500 words max. each):
Send application to fellowships@opencountrymag.com.
The Workshop Instructors
Innanoshe Richard Akuson is a New York Times-, Washington Post-, and CNN-published writer, editor, affirmative LGBT social inclusion and media visibility activist, and lawyer. He was associate nonfiction editor at Guernica, and, until recently, one of the two inaugural members of Twitter's content curation team for Sub-Saharan Africa.
His career in digital media took off alongside his advocacy in 2015, during a short, career-defining stint at BellaNaija. There, he wrote and commissioned stories that affirmed the diverse and richly textured sartorial expressions of genderqueer Nigerians — a complete departure from the all-pervading bigoted stereotyping of LGBT people across mainstream Nigerian media.
Two years later, he created A Nasty Boy to humanize and normalize the beautiful lives and radical existence of queer people in Nigeria. Through unflinching original visual, reported, and narrative essays, the magazine established itself as a positive space for chronicling and celebrating underground stories, people, and voices through the prism of Nigeria's ostracized queer population. It earned media acclaim in Marie Claire, HUNGER, Vogue, Dazed, i-D/Vice, Mic, NBC News, CNN, BBC, the Guardian, the Economist, AIGA Eye on Design, and Okay Africa, among others.
In 2017, he was nominated for The Future Awards Africa Prize for New Media, and, in 2020, for The Future Awards Africa Prize for Activism. In 2019, at 26, he was named one of Forbes Africa's "30 Under 30" changemakers, and, later that year, one of Forbes Japan's "30 Under 30 from the World of Forbes." In 2017 and 2020, YNaija named him one of its "100 Most Powerful Young Nigerians Under 40." In 2021, he was named one of Global Citizen's "10 African LGBTQ Activists to Know."
He was a plenary speaker at the 2022 World Bank Group Youth Summit, where he advocated for the unqualified inclusion of LGBT people as a crucial part of recovery and growth in the post-COVID world. In February 2023, he joined a panel of renowned African LGBT rights activists at the student-led Warwick Africa Summit to discuss the rising tide of anti-queer sentiments and legislations across Africa.
He lives and works in Los Angeles, California.
Minne Atairu is an interdisciplinary artist and doctoral candidate at Columbia University. Her research-based practice seeks to reclaim the obscured histories of the Benin Bronzes. Utilizing Generative AI and additive fabrication, she reassembles visual, sonic, and textual fragments into conceptual works that engage with repatriation-related questions.
She holds an MA in Museum Studies from The George Washington University, DC, and a BA in Creative Arts from University of Maiduguri, Nigeria.
She has exhibited and performed at The Harvard Art Museums, Boston (2022); Markk Museum, Hamburg (2021 – ); SOAS Brunei Gallery University of London, London (2022); Microscope Gallery, New York (2022) and Fleming Museum of Art, Vermont (2021).
In 2021, she received the Lumen Prize for Art and Technology (Global Majority Award) for Igùn, an AI-driven project that seeks to uncover unknown Benin Bronzes. She is currently a metaLAB Affiliate at Berkman Klein Center for Internet & Society, Harvard University.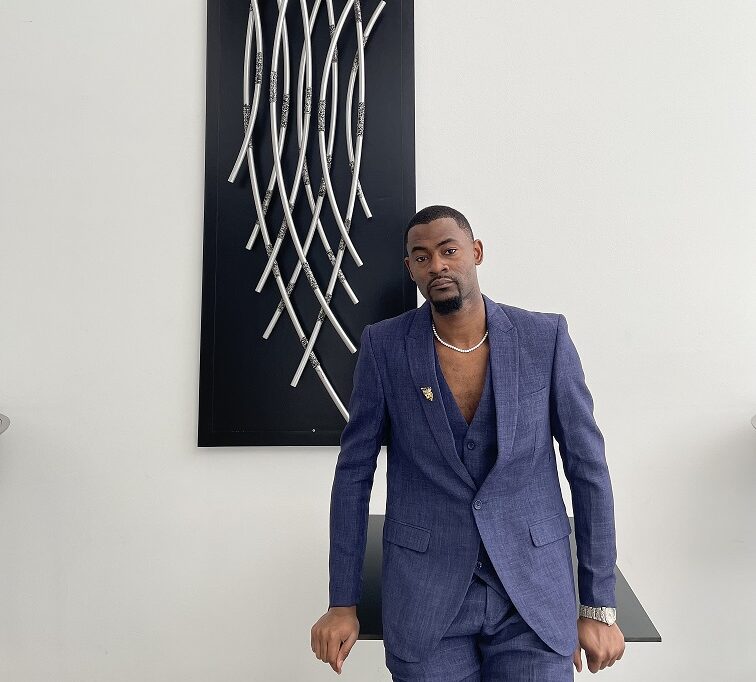 Otosirieze is a writer, editor, journalist, curator, and media consultant. He is the founder and editor of Open Country Mag, and was editor of Folio Nigeria, then CNN's exclusive media affiliate in Africa. This year, Open Country Mag became publisher of Folio Nigeria.
He has written about the Nigerian culture scene, covering innovation in over 20 fields, including film, art, music, tech, sports, cuisine, fashion, journalism, sculpture, beauty, health, and activism.
His fiction has appeared in The Threepenny Review and Transition. He is currently doing his MFA in at the Iowa Writers' Workshop.
He has done extensive, groundbreaking work in African literature. At 23, he created and administered the defunct Brittle Paper Awards, the first literary awards by an African platform. He has been, from age 24, the youngest major awards' judge in African literature. He sat on the panel of The Morland Scholarship. He chairs the panel for The Gerald Kraak Prize and was editor of its fourth anthology The Beautyful Ones Have Just Been Born. He curated The Art Naija Series, a sequence of themed e-anthologies of writing and visual art exploring different aspects of Nigerianness, including Enter Naija: The Book of Places (2016) and Work Naija: The Book of Vocations (2017). He was nonfiction editor at 14, Nigeria's first queer art collective. His work in LGBTQ advocacy was profiled in Literary Hub. Most recently, he is the curator of The Next Generation, a series of special issues by Open Country Mag that, each year, highlights 16 leading voices in African literature.
In 2019, he received the inaugural The Future Awards Africa Prize for Literature. In 2020, he was named among "The 100 Most Influential Young Nigerians" by Avance Media.
For enquiries, please email fellowships@opencountrymag.com.