The 20.35 Africa anthology series is dedicated to pushing the limits of how contemporary African poetry is perceived, and also to bridging the publishing gap set by this perception for young African poets. Across its five volumes, the anthology has asked crucial questions, most importantly: What is contemporary African poetry? Can African poetry be read beyond its thematic inclination? In his Introduction to the fourth volume, editor-in-chief Ebenezer Agu wrote that 20.35 Africa anthologies "afford the opportunity to illustrate a reading of African poetry along language aesthetics," putting out poems that will be read "foremost for their literary qualities."
20.35 Africa is happy to announce this call for submissions to the sixth volume of our series. This year's guest editors are Safia Jama and Nick Makoha, who will be working with the organization's editors: Ebenezer Agu, I.S. Jones, and Precious Okpechi.
Safia Jama was born to a Somali father and an Irish American mother in Queens, New York. A Cave Canem graduate fellow, she has published poetry in Ploughshares, Boston Review, World Literature Today, Spoken Black Girl, and Poem-a-Day. Her poetry has also been featured on WNYC's Morning Edition and CUNY TV's Shades of US series. She is the author of Notes on Resilience, included in the New-Generation African Poets chapbook box set (Akashic Books, 2020). Her full-length poetry collection, Crowded House, is forthcoming from Beltway Editions (Fall 2023). 
Nick Makoha is the founder of The Obsidian Foundation. He is the winner of the 2021 Ivan Juritz Prize and the Poetry London Prize. In 2017, his debut collection, Kingdom of Gravity, was shortlisted for the Felix Dennis Prize for Best First Collection and was one of the Guardian's best books of the year. He is a Cave Canem Graduate Fellow and the Complete Works alumnus. He has been writer-in-residence for the ICA London and Wordsworth Trust. He won the 2015 Brunel International African Poetry Prize and the 2016 Toi Derricotte & Cornelius Eady Prize for his pamphlet Resurrection Man. His play The Dark, produced by Fuel Theatre and directed by JMK award winner Roy Alexander, was on a national tour in 2019. It was shortlisted for the 2019 Alfred Fagon Award and won the 2021 Columbia International Play Reading Prize. His poems have appeared in the Cambridge Review, the New York Times, Poetry Review, 'e Rialto, Poetry London, TriQuarterly Review, 5 Dials, Boston Review, Callaloo and Wasafiri. He is a Trustee for the Arvon Foundation and the Ministry of Stories, and a member of Malika's Poetry Kitchen collective. Website: nickmakoha.com.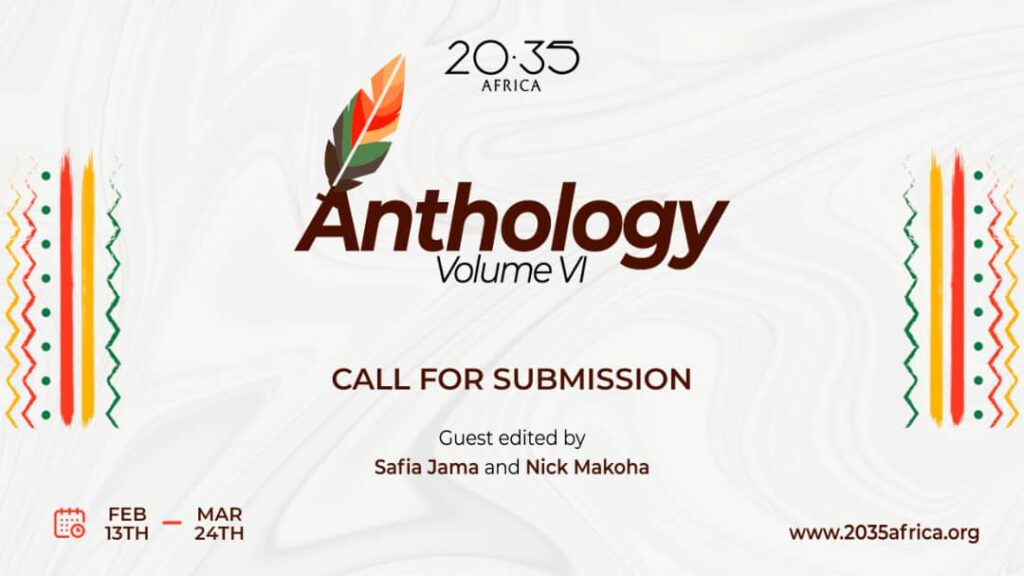 Submission Guidelines
The anthology is open to African poets who are between the ages of 20 (or who would be 20 by the time of publication) and 35.
Contributors published in the fifth volume are NOT eligible for this volume but may submit for subsequent volumes.
Submissions can cut across different themes and each contributor may send three poems ONLY. Please send us your best poems, properly edited.
The anthology is ONLY for African poets. We define an African poet as someone born in Africa, whose parents (or at least one) are African, or someone who currently lives in Africa and has done so for at least 10 years.
Poets who have had a full-length book or a chapbook or pamphlet published in electronic or print format can submit. Poets who have not been published in any form or on any literary forum/outlet, and fall into the acceptable age bracket, are encouraged to submit as well.
Only poems written in English will be accepted. Works translated into English from any African language may be submitted, but they must be accompanied by their original.
There is no stipulation as to the content of submitted poems, but poems should be ideally within 40 lines.
Identifying information, including names of poets, addresses, phone numbers, and publication histories, should NOT be included in the manuscript or in the body of the email. Submit through your personal email address and include the same email address on the last page of your manuscript. Submissions will be judged solely on merit.
We accept simultaneous submissions, but please notify us immediately if any of your poems is accepted elsewhere.
All entries must be submitted in a SINGLE WORD DOCUMENT, typed in TIMES NEW ROMAN, font 12, single-spaced, and sent via email only to the 20.35 Africa Team at submissions@2035africa.org.
The email subject should read "20.35 AFRICA SUBMISSION."
Submissions must be written in black ink. No colours.
Each poem must have a title.
Poems must be the original work of the contributor.
The deadline for submissions is midnight (UTC+01:00) on 24th March 2023.
We hope to respond to every submission by June 2023. However, there may be a delay in response time pending the editors' final decision.
We will not entertain any inquiries concerning submission status until after June 2023.
Accepted contributors must be available throughout the editing process and for other correspondence that may follow.
All inquiries must be sent to info@2035africa.org. Inquiries sent to the submission's email address will not be read.
Except in proven cases of plagiarism or when a piece we have published violates any form of human rights, we do not take down works once they have been published in our anthology or on our website.
By submitting your work to us, you agree to give us first serial rights of said work, which shall revert to you upon publication. If your work is republished elsewhere, kindly acknowledge that it first appeared in a 20.35 Africa anthology.