In the early months of 2015, Gbenga Adesina attended a writing residency in Goree Island, Dakar. It was there that what he came to refer to as his "spiritual education" took place. It was also the birthplace of his widely read poem, "How to Paint a Girl," published first in his chapbook Painter of Water and then in The New York Times in 2016.
"It was the most charged moment of my poetry career," he says of Goree Island. Even now as he recalls it, his gaze away from the screen, he seems lost, taken from this moment and back to that beautiful island. For the public, the pivotal moment of his career was 2016, the year he won the Brunel University International African Poetry Prize, but for him, it was that residency. He described it as "full of light": "That kind of light, I had never seen it before. Even when it was dark in the night, I saw the light. I came back from that place full of poems."
When he sent in a submission for the Brunel Prize, his goal was simply to make it to the shortlist. It was the furthest he could allow himself to see and to imagine, given where he came from, where he was writing from. "I saw the prize only from afar, as something meant for people operating in the middle of so many resources," he says. "Peter Akinlabi, whom I loved and respected, had been on the shortlist, and so making the shortlist alone at that moment meant a lot to me."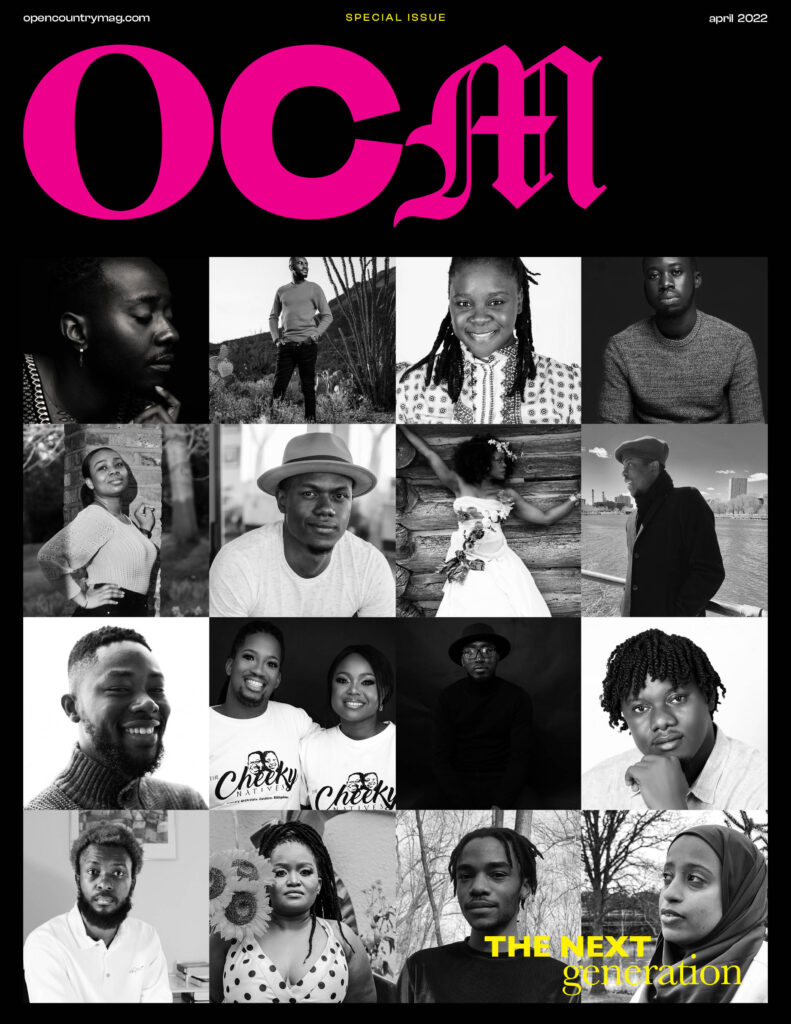 His win came as a shock. He was in his Abeokuta home, a place he refers fondly and reverentially as his "spiritual base," when he received the email from the prize founder Bernardine Evaristo. "After that, my phone just sort of started blowing up with messages and calls from my friends who had seen the announcement. Those who lived nearby started to come to where I was."
Adesina's victorious year held meaning to the generation of poets who had been writing from Nigeria at the time—my generation. It showed us what was possible in the African and global poetry scenes, that it was limitless. We had been writing from a place of lack, a limited access to books and teachers, and suddenly, one of us, who still lived in the country and had not migrated to the West, took home the most important poetry prize in the continent and was now in The New York Times. We were realizing: it was possible to launch a global career from our base.
The poet Adeeko Ibukun, a friend of Adesina's, told me, "It was beyond what we considered doable at that time. Something that said, now, indeed, the stars belong to him, too."
After the prize, things went uphill for Adesina. He got a Norman Mailer Fellowship and a scholarship to attend. He went for the Open Arts Residency. He proceeded to New York University (NYU) for his MFA in poetry. Suddenly, he was surrounded by teachers. "To have come from a lack of teachers, and be launched into an abundance, it was a blessing," he recalls. "There was Sharon Olds, who, once in her office, gave me and her son a gift each: a gift of leaves that had blown into the office."
At NYU, he wrote a lot about family, about his father who had passed, and about exile. "I was trying to understand what to do with that grief; family as a chorus that sings and dances together," he tells me. "There are some poems you can't write until your spirit has gone through certain things." This is what guides the timing of his poems.
He is invested in the idea and value of community. It appears to be a major motivation for A Long House, the magazine he cofounded with the poet Kechi Nomu and the art critic 'Yinka Elujoba.
The three, he explains, had "ethical concerns around questions of aesthetics, questions of memory, questions of history. And it turned out in just very interesting ways that the three of us had been friends very individually." And so they began to discuss these passions and concerns, until it finally fused into a vision—an attempt towards looking at Blackness and Africanness through art and aesthetics.
We do not talk enough, he says, about "editorial talents, and how crucial that is for any literary ecosystem. I mean, we've had great and very deserving writing stars on the continent since the postcolonial epoch, but are we ever going to have someone who is just a great literary presence on the continent and what they are is an editor?"
He tells me that a major gap in the African literary scene is an adequate industry for translation. "We don't talk enough about translation. Sometimes I think to myself, what would my poem become in a different tongue, a different system of sensibility? And translation is usually what makes that happen."
These days, when Adesina wakes up, it is usually, first, into language. "I am always reading," his hands slice through the air in excitement. Books line the shelves behind him. Among his current reads are John Berger's Selected Essays (especially the essay "A Weeping Place"), Henri Cole's Touch, and Jazmina Barrera's On Lighthouses. They are not all necessarily for his PhD program at Florida State University.
In 2020, he won the Narrative Prize for Poetry. I ask whether he's working on a book and he says he's always working on projects. "Really," he adds, "they are usually just systems of enquiries, imaginative strategies, which is all really to say that sometimes you have this intense desire to pursue a certain question." ♦
"The Seminal Breakout of Gbenga Adesina" appears in The Next Generation special issue of Open Country Mag, profiling 16 writers and curators who have influenced African literary culture in the last five years, curated and edited by Otosirieze Obi-Young. The issue comes with two covers, designed by Emmimade Design Agency.