The anticipated books of fiction, poetry, and nonfiction by African writers this year, selected by the staff of Open Country Mag, expected to dominate the literary conversation.
==========
Nonfiction
==========
BETWEEN STARSHINE AND CLAY: CONVERSATIONS FROM THE AFRICAN DIASPORA, Sarah Ladipo Manyika
Footnote Press
January 31, 2023
In a series of incisive and intimate encounters, Manyika interviews some of the most distinguished Black thinkers of our times, including Nobel Laureates Toni Morrison and Wole Soyinka and civic leaders first lady Michelle Obama and Senator Cory Booker, while reflecting on her own experience as well.
THE LANGUAGE OF LANGUAGES, Ngũgĩ wa Thiong'o
Seagull Books
February 5, 2023
This volume brings together for the first time Ngũgĩ's essays and lectures about translation, written and delivered over the past two decades. Here we find Ngũgĩ discussing translation as a conversation between cultures; proposing that dialogue among African languages is the way to unify African peoples; reflecting on the complexities of translating one's own work; and pleading for the hierarchy of languages to be torn down.
TOMORROW, TOMORROW, INSHA ALLAH, Sara Cheikh
Feral House
June 20, 2023
A cosmopolitan daughter of Saharawi émigrés travels to visit her family in the forgotten refugee city-camps scattered in the Western Sahara Desert. Alternating between tense, poignant, and funny, this heartfelt first-hand account explores life and lessons from the plight of the Saharawi people. Cheikh's story questions the meaning of cultural heritage and the universal desire to have a homeland.
I AM STILL WITH YOU: A RECKONING WITH SILENCE, INHERITANCE, AND HISTORY, Emmanuel Iduma
Algonquin Books
February 21, 2023
A journey through the author's homeland of Nigeria, in search of the truth about his disappeared uncle and the history of a war that shaped him, his family, and a nation. It's a story about the birth of an artist, about writing itself as an act both healing and political, even dangerous.
EVERYTHING IS SAMPLED: DIGITAL AND PRINT MEDITATIONS IN AFRICAN ARTS AND LETTERS, Akinwunmi Adesokan
Indiana University Press
March 28, 2023
Adesokan looks at the shifting modes of production and circulation of African artistic forms since the 1980s, focusing on digital culture as the most currently decisive setting for these changes. Through analysis of five modes of creative practice—curation, composition, adaptation, platform, and remix—it offers a complex but nuanced approach to appreciating the work of several generations of African writers and artists.
FAT OFF, FAT ON: A BIG BITCH MANIFESTO, Clarkisha Kent
Feminist Press
March 7, 2023
In this disarming and candid memoir, Kent unpacks the problems one faces as a fat, Black, queer woman in a society obsessed with heteronormativity.
MADONNA IS OUR MOTHER: NOTES FROM MALAWI, Muti Michael Phoya
Logos Open Culture
2023
In 15 essays, Phoya reflects on the shifting character of postcolonial Malawi, focusing mainly on land and memory.
BLACK AND FEMALE: ESSAYS, Tsitsi Dangarembga
Graywolf Press
January 17, 2023
Tsitsi Dangarembga, the iconic novelist who was Open Country Mag's first cover star, examines the legacy of imperialism on her own life. This paradigm-shifting essay collection is at once philosophical, intimate, hopeful, and urgent, and weaves the personal and political in an illuminating exploration of race and gender.
Read an excerpt.
SMALL SMALL, Ike Anya
Sandstone Press
May 18, 2023
The compelling story of Nigerian physician Ike Anya's path to becoming a doctor. Moving, often humorous and always revealing, his account lays bare the challenges and rewards of his vocation.
INTRODUCTION TO IGBO MYTHOLOGY FOR KIDS, Chinelo Anyadiegwu
Bloom Books for Young Reader
January 24, 2023
Immerse yourself in the vibrant world of Igbo heroes, deities, creatures, folktales, and myths, including Chineke the creator, Ana, Igwe, Anyanwu, and Ekwensu. Following this introduction to the pantheon are popular Igbo myths, folktales, and legends.
AFRICAN ACTIVISTS OF THE TWENTIETH CENTURY, Hugh Macmillan, Tabitha Kanogo, Robert R. Edgar, Roy Doron, and Toyin Falola
Ohio University Press
March 14, 2023
An omnibus collection of concise and up-to-date biographies of four influential figures—Chris Hani, Wangari Maathai, Joseph Mpama/Palmer, and Ken Saro-Wiwa—in modern African history.
STRANGE AND DIFFICULT TIMES: NOTES ON A GLOBAL PANDEMIC, Nanjala Nyabola
Hurst
February 1, 2023
A look at the biases, assumptions, and moral failures in Western responses—individual and collective, psychological and practical—to the "crises" of the early twenty-first century, especially COVID-19.
RIOTOUS DEATHSCAPES, Hugo ka Canham
Duke University Press Books
March 24, 2023
Hugo ka Canham presents an understanding of life and death based on indigenous and black ways of knowing that he terms Mpondo theory. Focusing on amaMpondo people in rural Mpondoland, in South Africa's Eastern Cape, the work outlines the methodologies that have enabled the community's resilience and survival. It charts a course of black life.
WHY FATHERS CRY AT NIGHT, Kwame Alexander
Little, Brown and Company
May 23, 2023
This intimate and non-traditional (or "new-fashioned") memoir is all snapshots of a man learning how to love, with heartfelt reminisces, family recipes, love poems, and personal letters on reckless passion, heartbreak, failure, and joy.
==========
Poetry
==========
MASS FOR SHUT INS, Mary-Alice Daniel
Yale University Press
March 21, 2023
In these poems, African and Western mythic systems and modern rituals originate an ill-omened universe. Venturing through dreamscapes, hellscapes, and lurid landscapes, they map speculative fields of spiritual warfare.
SALTWATER DEMANDS A PSALM, Kweku Abimbola
Graywolf Press
April 4, 2023
In Ghana's Akan tradition, a child is named according to the day of the week on which they were born. This marks their true birth. In Abimbola's debut, the intimacy of this practice yields an intricately layered poetics of time and body based in Black possibility, ancestry, and joy.
TISA: NEW-GENERATION OF AFRICAN POETS, Edited by Kwame Dawes and Chris Abani
Akashic Books
July 4, 2023
The African Poetry Book Fund's latest limited-edition box set features the work of eleven new African poets. The series seeks to identify the best poetry written by African poets working today, and it is especially interested in featuring poets who have not yet published their first full-length book.
ZAKWATO & LOGLEDOU'S PERIL, Azo Vauguy and Todd Fredson
Action Books
March 15, 2023
Exhilarating, alert, and animated by both Bété oral poetics and modernist zeal, these two major linked poems by the late Ivorian poet Azo Vauguy, translated into English for the first time by poet and scholar Todd Fredson, evokes the legendary figure of Zakwato, who, having slept through the massacre of his village, marches to the blacksmith to have his eyelids removed so that he might never sleep again.
THERE'S MORE, Uchechukwu Peter Umezurike
The University of Alberta Press
March 16, 2023
Umezurike takes on the rich concepts of home and belonging—home lost and regained, home created with others and with the land, home as "anywhere we find something to love"—giving voice to the experiences of migrant and other marginalized citizens whose lives society tends to overlook.
THE ANIMALS OF MY EARTH SCHOOL, Mildred Kiconco Barya
Terrapin Books
January 1, 2023
In compassionate, playful, fable-like poems, Barya awakens us to the fully alive, non-human communities surrounding us. They demonstrate poetry's unique ability to prick us from our self-involved numbness and awaken us to wonder.
==========
Anthologies
==========
RELATIONS: AN ANTHOLOGY OF AFRICAN AND DIAPORA VOICES, Edited by Nana Ekua Brew-Hammond
HarperCollins
January 17, 2023
In fresh stories, poems, and essays by African and diaspora writers, this book punctures the human illusion of separation. New and established storytellers reshape the narratives that divide and subjugate, revealing the truth of our shared humanity despite differences in language, identity, class, gender, and beyond.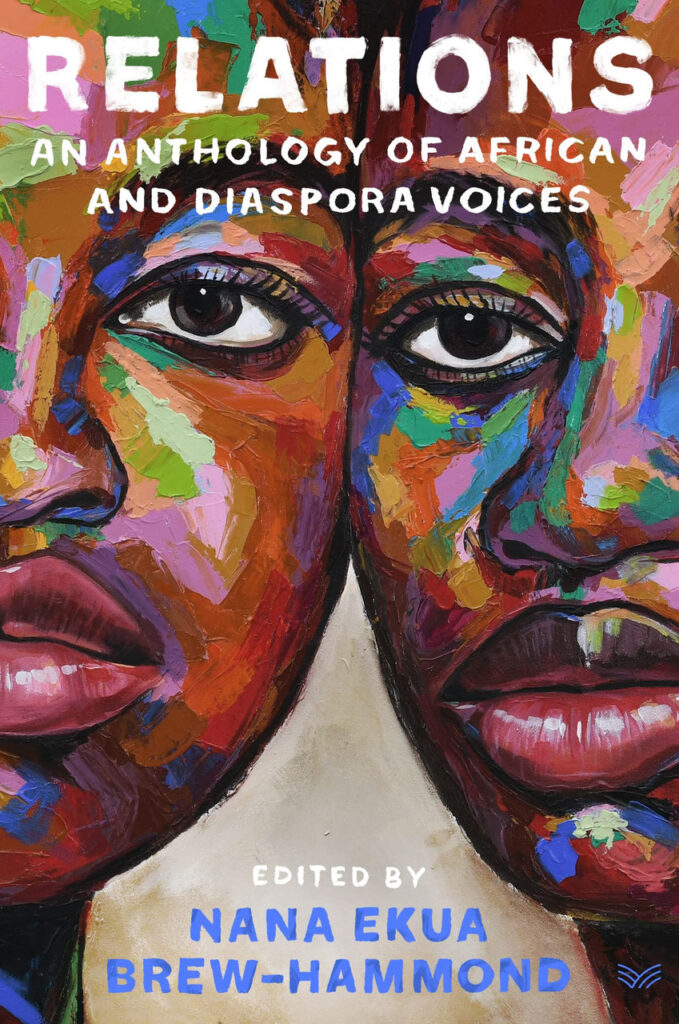 THE SAUUTIVERSE ANTHOLOGY, Edited by Wole Talabi
Android Press
November, 2023
The first in a new shared world series containing short stories and novellas by African authors, and set in a fictional civilisation based on a blend of African cultural worldviews.
OUTRIDERS AFRICA: ESSAYS ON EXPLORATION AND RETURN, Edited by Layla Mohamed and Bibi Bakare-Yusuf
Cassava Republic Press
April 18, 2023
In Spring 2020, 10 writers of African heritage, travelling in pairs, set out on journeys across the continent. Through essays, travel diaries, letters, and poetry, the anthology offers an evocative and enthralling exploration of forgotten family histories, reckoning with grief, and what it truly means to return.
NO EDGES: SWAHILI STORIES, Edited by Sarah Coolidge
Two Lines Press
April 11, 2023
The first collection of Swahili fiction in English translation, No Edges introduces eight East African writers from Tanzania and Kenya. Featured writers include Lusajo Mwaikenda Israel, Euphrase Kezilahabi, Mwas Mahugu, and Katama G.C. Mkangi.
TO WRITE THE AFRICA WORLD, Edited by Achille Mbembe and Felwine Sarr; Translated by Drew Burk
Polity Press
February 13, 2023
This book brings together and makes available to the English-speaking world the material presented at the 2016 Ateliers de la pensée—Workshops of Thought—in Dakar. The authors deal with a wide range of issues, including decolonization, the development of social utopias, and the pursuit of new forms of political, economic, and social production on the African continent.
==========
Fiction
==========
RIVER SPIRIT, Leila Aboulela
Grove Press
March 7, 2023
The spellbinding new novel from Caine Prize winner Leila Aboulela weaves an unforgettable story about an embattled young woman's coming of age during the Mahdist War in 19th century Sudan. Through the voices of seven men and women whose fates grow inextricably linked, she presents a people who—against the odds and for a brief time—gained independence from foreign rule through their willpower, subterfuge, and sacrifice.
WARRIOR OF THE WIND, Suyi Davies Okungbowa
Orbit Books
November 21, 2023
A fixer turned emperor. A scholar turned fugitive. A warrior turned rebel. The future of the continent lies in their hands. We follow the epic trials and triumphs of Danso, Lilong, and Esheme in this page-turning sequel to Son of the Storm.
DON'T ANSWER WHEN THEY CALL YOUR NAME, Ukamaka Olisakwe
Masobe Books
May 16, 2023
When the streams suddenly run dry in Ani Mmadu, the people know it is time to atone for a sin that goes back to the very beginning of their world: the consequence of one woman's rebellion against the all-powerful and unforgiving, jealous god. To avert this catastrophe and for the waters to flow and nourish the farms again, the people must send an Aja—a child chosen by the Oracle—into the Forest of Iniquity, to atone for that great Sin.
BLACK FOAM, Haji Jabir
Amazon Crossing
February 7, 2023
Dawoud is on the run from his murky past, aiming to discover where he belongs, but it seems prejudice is everywhere, holding him back, when all he really wants is to create a simple life he can call his own. A chameleon, he is not lost in this whirl of identities. In fact, he is defined by it.
AND THEN HE SANG A LULLABY, Ani Kayode Somtochukwu
Grove Atlantic
June 6, 2023
August is a God-fearing track star who leaves Enugu to attend university and escape his overbearing sisters. It's his first semester and he is making friends. There's only one problem: he can't stop thinking about Segun, an openly gay student who works at a local cybercafé. This is a searingly honest and resonant debut exploring what love and freedom cost in a society steeped in homophobia.
THE ROAD TO THE COUNTRY, Chigozie Obioma
Hutchinson Heinemann
2023
In 1950s Nigeria, a bereaved seer embarks on a visionary journey into the future of a child yet unborn. That boy, Kunle, is a university student in Lagos burdened with a guilty conscience and who sets out to rescue his missing brother from Biafra, a country at war, only to find himself conscripted to fight in one of the most devastating and under-examined conflicts of the 20th century.
CAGED OCEAN DUB, Dare Segun Falowo
Android Press
June 20, 2023
In this collection of stories, there are dragons in Lagos and witches who wear their sons' skins. Falowo's language and plot twists recall Poe and Kafka as his narratives tackle belonging, abusive maternal relationships, and tragic love.
THE YEAR OF RETURN, Ivanna Akotowaa Ofori
Android Press
Fall 2023
This debut novella is a work of magical realism which explores the world 400 years after the first slaves from West Africa landed on the shores of Virginia. The ghosts of those who died during the Middle Passage rise up out the Atlantic and spread throughout the world, and a US-based Ghanian journalist, who returned to Ghana with a few friends for the holidays, seeks answers to the mysterious and otherworldly appearances.
THE LAST GIFT OF THE MASTER ARTISTS, Ben Okri
Other Press
January 31, 2023
A boy and a girl meet by chance on a riverbank in Africa. One is the son of a king, struggling to find his place in the world, the other the daughter of a craftsman from the secretive tribe of master artists. Their world—though they don't know it yet—is ending. A strange wind has begun to blow, and in its wake, things are disappearing: songs, stories, artworks, and finally, people.
WOMB CITY, Tlotlo Tsamaase
Erewhon Books
April 11, 2023
This feminist horror novel imagines a dark and deadly future Botswana, rich with culture and true folklore where citizens' consciousnesses can be implanted into available, microchipped bodies. Nelah seems to have it all. But in a body her husband controls via microchip and the tailspin of a loveless marriage, her hopes and dreams come to a devastating halt.
THE LONGEST SUMMER, Alexandrine Ogundimu
Clash
June 20, 2023
Abboton, Indiana has kept hard-partying Victor Adewale in the closet for his entire life. So he makes a deal with his stern Nigerian father: Clean up his act, hold down a job, and the dad will pay for him to attend grad school in New York. Easy enough, until $10,000 goes missing from Victor's Hot Topic-esque mall store under his watch, leaving him the prime suspect.
SHIGIDI AND THE BRASS HEAD OF OBALUFON, Wole Talabi
Daw Books
August 15, 2023
This debut fantasy novel follows Shigidi, a disgruntled and demotivated nightmare god in the Orisha spirit company, who meets Nneoma, a sort-of succubus.From the boisterous streets of Lagos to the swanky rooftop bars of Singapore and the secret spaces of London, the two encounter rival gods and strange creatures as they are drawn into a web of revenge, spirit business, and a spectacular heist across two worlds.
NO ONE DIES YET, Kobby Ben Ben
Europa Editions
August 17, 2023
2019. The Year of the Return. It has been exactly 400 years since the first slave ships left Ghana for America, and Ghana has opened its doors for Black diasporans to come to know the land of their ancestors. Three Americans visit preserved sites from the transatlantic slave route, and explore the country's underground queer scene. But ahead of them is a murder.
MAAME, Jessica George
St Martin's Press
January 31, 2023
Maddie's life in London is far from rewarding. With a mother who spends most of her time in Ghana, a father who suffers from advanced stage Parkinson's, and a nightmare office scenario, she leaps at the chance to get out of the family home and finally start living. But it's not long before tragedy strikes, forcing Maddie to face the true nature of her unconventional family.
SERWA BOATENG'S GUIDE TO WITCHCRAFT AND MAYHEM, Roseanne A. Brown
Disney Publishing Group
September 12, 2023
The second book to the middle-grade fantasy Serwa Boateng's Guide to Vampire Hunting features a devastating secret, a heist, rivals working together and some soul reckoning. Brown captures all the discomfort of a girl stuck between two worlds with sympathy and laugh-out-loud humour.
YOMI AND THE FURY OF NINKI NANKA, Davina Tijani
Little Tiger Press
July 6, 2023
Yomi and her younger brother Kayode are supposed to be on the trip of a lifetime visiting The Gambia with their Uncle Olu. Instead, their uncle's work has made this the most boring holiday ever! But when Yomi witnesses the Dragon King, Ninki Nanka, being kidnapped from the sky, things get a lot more exciting.
THE FIVE SORROWFUL MYSTERIES OF ANDY AFRICA, Stephen Buoro
Bloomsbury Publishing
April 18, 2023
Andrew Aziza is a fifteen-year-old boy living in Kontagora in Northern Nigeria, who falls hopelessly in love with the first white girl he lays eyes on. But at the church party held to celebrate her arrival, multiple crises force him to go on a journey of self-discovery in the shadow of colonialism and communal violence in Nigeria.
FINDING FOLKSHORE, Rachel Faturoti
Jacaranda Books
April 6, 2023
Sixteen-year-old Fola Oduwole is scared of disappointing her parents, scared of not being able to follow her dreams, but most of all she's scared for her brother. He has cancer and his surgery's coming up soon. The last thing she needs is more on her plate. But when she's transported into Folkshore, a hidden part of London, she finds her plate running over.
EVERYONE'S THINKING IT, Aleema Omotoni
HarperCollins
September 5, 2023
At an elite boarding school in the English countryside, Nigerian cousins Iyanu and Kitan are thrown into the middle of a schoolwide conspiracy when everyone's juicy relationship secrets are released "Burn Book style" the week before the annual Valentine's Day Ball.
JACKAL, JACKAL, Tobi Ogundiran
Undertow Publications
July 2023
In this debut collection of stories, a hapless salesman flees the otherworldly librarian hell-bent on retrieving her lost library book; a wooden boy, a riff off of Pinocchio, doesn't seek to become real, but wanting to be loved, journeys the world in search of his mother—an ancient and powerful entity who is best not sought out; and when a young mother kills one of the goats devouring all her tubers, she must then pay the ultimate price.
INNARDS, Magogodi oaMphela Makhene
W.W. Norton
May 2, 2023
Set in Soweto, the urban heartbeat of South Africa, Innards tells the intimate stories of everyday black folks processing the savagery of apartheid with grit, wit, and their own distinctive bewildering humour. A breathtaking collection flush with forgiveness, rage, ugliness, and beauty. An uncompromising depiction of black South Africa.
FORGED BY BLOOD, Ehigbor Okosun
Harper Voyager
August 8, 2023
An action-packed novel inspired by Nigerian mythology—full of magic and emotion and set in a highly atmospheric, complex world in which a young woman fights to survive a tyrannical society, having everything stripped away from her, and seeking vengeance.
MORE PERFECT, Temi Oh
Simon Schuster UK
May 25, 2023
When Moremi connects her brain to the Panopticon, a network which allows you to see inside the minds and dreams of others, she believes that it will save her from depression, loneliness and, eventually, death. That is until she meets Orpheus who was raised to question everything, including the government who plan to make the connection procedure compulsory.
DRINKING FROM GRAVEYARD WELLS, Yvette Lisa Ndlovu
University Press of Kentucky
March 7, 2023
An avenging spirit takes on the patriarchy from beyond the grave. An immigrant woman undergoes a naturalisation ceremony in an imagined American state that demands that immigrants pay a toll of the thing they love the most. Questions about the ownership over the bodies of Black woman lurk between the lines of this stunning collection of stories that engage with African women's histories, playing with genre and wrapped in the literary eloquence and tradition of southern African mythology.
DAZZLING, Chịkọdịlị Emelụmadụ
Wildfire
February 16, 2023
This debut speculative novel follows two girls as they reckon with their burgeoning wildness and the legacy of their fathers' decisions. Treasure and Ozoemena face terrible choices as each must ask herself: in a world that always says "no" to women, what must two young girls sacrifice to get what is theirs?
DAUGHTERS OF ODUMA, Moses Ose Utomi
Atheneum Books
February 7, 2023
At 16, Dirt is old and has retired from the all-female fighting sport of Bowing, and spends her days coaching the younger sisters of the Mud Fam. When an attack from a powerful rival leaves the Mud without their top Bower, Dirt is the only one who can compete in the tournament. But she is afraid.
ROOTLESS, Krystle Zara Appiah
Ballantine Books
March 7, 2023
On a spring afternoon in London, Sam hops the stairs of his flat two at a time. There's money missing from his and his wife's shared bank account and his calls are going straight to voicemail. When he finally reaches someone, he learns his wife is nearly 5,000 miles away as their toddler looks around and asks, "Where's Mummy?"
MY LIFE AS A CHAMELEON, Diana Anyakwo
May 4, 2023
It is nearly five years since Lily's father's death, and she is soon to return to her birthplace in Nigeria to reunite with her mother and siblings for the anniversary. A powerful story of resilience and belonging.
THE THREE OF US, Ore Agbaje-Williams
G.P. Putnam's Sons
May 16, 2023
What if the two most important people in your life hated each other with a passion: A ride-or-die snarky friend with versus an affectionate husband? Told over the course of one day in three taut, mesmerizing parts—the wife, the husband, and the best friend—the trio's dented visions of each other unravel.
BRIDE, Lauren Beukes
Mulholland Books
August 8, 2023
24-year-old dropout Bridge has always been paralysed by choices, by all the other lives she could have lived, and now, whoever she's supposed to be in the wake of her mother Jo's premature death. When she stumbles upon "the dreamworm," she becomes convinced her mom is lost out there.
WADE IN THE WATER, Nyani Nkrumah
Amistad
January 17, 2023
Set in 1982, in rural, racially divided Ricksville, Mississippi, this is the story of Ella, a black, unloved, precocious 11-year-old, and Ms. St. James, a mysterious white woman from Princeton who appears in Ella's community to carry out some research. Soon, Ms. St. James befriends Ella, who is willing to risk everything to keep her new friend in a town that does not want her there.
THE LIES OF THE AJUNGO, Moses Ose Utomi
Tordotcom
March 21, 2023
In the City of Lies, they cut out your tongue when you turn 13, to appease the terrifying Ajungo Empire and make sure it continues sending water. Tutu will be 13 in three days, but his parched mother won't last that long. So he goes to his oba and makes a deal.
WHAT NAPOLEON COULD NOT DO, D.K. Nnuro
Riverhead Books
February 7, 2023
When siblings Jacob and Belinda Nti were growing up in Ghana, their goal was simple: to move to America. But the U.S. government has repeatedly denied Jacob, now an awkward computer programmer who still lives with his father, a visa, while his sister Belinda has made a life in America. All their desires and ambitions highlight the promise and the disappointment that life in a new country offers.
ALL YOUR CHILDREN SCATTERED, Beata Umubyeyi Mairesse
Europa Editions
August 23, 2023
This debut novel follows three generations torn apart by the Rwandan Genocide, as they try to reconnect with one another, rebuild broken links, and find their place in today's world. Blanche returns to Rwanda after building a life in Bordeaux with her husband and young son. Reuniting with her mother, old wounds are reopened.
LAST SEEN IN LAPAZ, Kwei Quartey
Soho Crime
February 7, 2023
When a whirlwind romance leads to a brutal murder and the disappearance of a young Nigerian woman, PI Emma Djan resorts to dangerous undercover work to track her down in Accra. Then the key suspect—part of a part of a network of sex traffickers across West Africa—is murdered.
THE MIDDLE DAUGHTER, Chika Unigwe
Dzanc Books
April 4, 2023
When seventeen-year-old Nani loses her older sister and then her father in quick succession, her world spins off its axis. Isolated and misunderstood by her grieving mother and sister, she's drawn to an itinerant preacher, a handsome self-proclaimed man of God who offers her a new place to belong. All too soon, Nani finds herself estranged from her family, tethered to her abusive husband by children she loves but cannot fully comprehend. She must find the courage to break free and wrestle her life back—without losing what she loves most.
GHOST SEASON, Fatin Abbas
W. W. Norton & Company
January 10, 2023
A dynamic, beautifully orchestrated debut novel connecting five characters caught in the conflict on the Sudanese border. Weaving a sweeping history of the breakup of Sudan, Abbas explores the porous and perilous nature of borders―whether they be national, ethnic, or religious―and the profound consequences for those who cross them.
WADE IN THE WATER, Nyani Nkrumah
Amistad
January 17, 2023
Set in 1982, in rural, racially divided Ricksville, Mississippi, this is the story of Ella, a black, unloved, precocious 11-year-old, and Ms. St. James, a mysterious white woman from Princeton who appears in Ella's community to carry out some research. Soon, Ms. St. James befriends Ella, who is willing to risk everything to keep her new friend in a town that does not want her there.
THE LIES OF THE AJUNGO, Moses Ose Utomi
Tordotcom
March 21, 2023
In the City of Lies, they cut out your tongue when you turn 13, to appease the terrifying Ajungo Empire and make sure it continues sending water. Tutu will be 13 in three days, but his parched mother won't last that long. So he goes to his oba and makes a deal.
LAST SEEN IN LAPAZ, Kwei Quartey
Soho Crime
February 7, 2023
When a whirlwind romance leads to a brutal murder and the disappearance of a young Nigerian woman, PI Emma Djan resorts to dangerous undercover work to track her down in Accra. Then the key suspect—part of a part of a network of sex traffickers across West Africa—is murdered.
MAMA'S SLEEPING SCARF, Chimamanda Ngozi Adichie, writing as Nwa Grace-James
Knopf
September 5, 2023
The first children's book from the best-selling author is a tender story about a little girl's love for her mother's scarf, and the adventures she shares with it and her whole family.
THE MIDDLE DAUGHTER, Chika Unigwe
Dzanc Books
April 4, 2023
When seventeen-year-old Nani loses her older sister and then her father in quick succession, her world spins off its axis. Isolated and misunderstood by her grieving mother and sister, she's drawn to an itinerant preacher, a handsome self-proclaimed man of God who offers her a new place to belong. All too soon, Nani finds herself estranged from her family, tethered to her abusive husband by children she loves but cannot fully comprehend. She must find the courage to break free and wrestle her life back—without losing what she loves most.
AZUCAR, Nii Ayikwei Parkes
Peapal Tree Press
June 8, 2023
A man leaves his family in Accra to travel to the mythical Caribbean Island of Fumaz, where the revolutionary philosophy of peopleism just about keeps its flame alive against the forces of an old-style command centre political bureaucracy and a stifling trade blockade from the big imperialist neighbour to the North.
LOOKING FOR HAPPY, Ty Chapman
Beaming Books
May 1, 2023
Every day is different. Some days everything goes right—you're in the groove and feeling like yourself. A young boy is having one of those dreary days, and nothing seems to help. But after trying his grandmother's way to shake the blues also fails, he discovers that happiness is easiest to find when you're not looking.
THE HISTORY OF A DIFFICULT CHILD, Mihret Sibhat
Viking
June 27, 2023
An exhilarating, tragicomic debut novel about the indomitable child of a scorned, formerly land-owning family who must grow up in the wake of Ethiopia's socialist revolution. It is about what happens when mother, God, and country are at odds, and how one difficult child finds her voice.
NIGHTBLOOM, Peace Adzo Medie
Algonquin Books
June 13, 2023
After two inseparable young friends in Ghana become estranged, one moving to the US, only a crisis can bring them back together and reconnect their bond. A riveting depiction of class and family in Ghana, a compelling exploration of memory, and an eye-opening story of life as an African-born woman in the US.
THE UNFORTUNATES, J.K. Chukwu
Harper
February 7, 2023
An edgy, bitingly funny debut about a queer, half-Nigerian college sophomore who, enraged and exhausted by the racism at her elite college, is determined to reveal the truth about The Unfortunates—the unlucky subset of Black undergrads who keep disappearing.
THE SPLINTER IN THE SKY, Kemi Ashing-Giwa
Saga Press
July 11, 2023
The dust may have settled in the war of conquest between the Holy Vaalbaran Empire and the Ominirish Republic, but the Empire's surrender means little. Especially to a lowly scribe like Enitan, given her country's continuing status as a Vaalbaran province. All she wants is to quit her day job and expand her fledgling tea business. But when imperial agents assassinate her lover and abduct her sibling, she embarks on a mission, weaving her tea tray up through the heart of the Vaalbaran capital.
ONYEKA AND THE RISE OF THE REBELS, Tolá Okogwu
Simon Schuster Children's UK
March 2, 2023
Onyeka and her superpowered friends must race against time to save themselves and the Solari in the next instalment of the middle grade series. Will they win?
ALL THAT IT EVER MEANT, Blessing Musariri
Norton Young Readers
January 3, 2023
Mati's family is reeling from the death of her mother. When her sister, rebelling due to her grief, pulls her worst stunt yet, their father uproots the family from their home in England for an extended camping holiday in Zimbabwe. Along for the trip is Meticais, a fabulously attired gender-neutral spirit that only Mati can see.
WAR WIDOW, Deborah Falaye
HarperCollins
November 21, 2023
The sequel to the young adult fantasy novel Blood Scion follows Sloane as she escapes Avalon with Baba and the surviving members of the Blades, but she is distraught when she reaches Ilé-Orisha—the Shadow Rebels' hidden fortress—and sees a massacre.
THE MELANCHOLY OF SUMMER, Louisa Onomé
Feiwel & Friends
May 30, 2023
In this YA coming-of-age story, a teenage girl placed in the care of a cousin she barely knows learns to trust and open up after her parents go on the run—after being accused committing a crime.
CALL AND RESPONSE, Gothataone Moeng
Viking
February 7, 2023
Richly drawn stories about the lives of ordinary families in contemporary Botswana. A young widow adheres to the expectations of wearing mourning clothes for nearly a year, though she's unsure what the traditions mean or whether she is ready to meet the world without their protection. An older sister returns home from a confusing time in America, only to explain at every turn why she's left the land of opportunity. A younger sister hides her sexual exploits from her family, while her older brother openly flaunts his infidelity.
DAUGHTERS OF IZDIHAR, Hadeer Elsbai
Harper Voyager
January 10, 2023
The first book in a duology, set wholly in a new world but inspired by modern Egyptian history, about two young women—Nehal, a spoiled aristocrat used to getting what she wants and Giorgina, a poor bookshop worker used to having nothing—who find they have far more in common, particularly in their struggle for the rights of women and their ability to fight for it with forbidden elemental magic.
WHEN WE WERE FIREFLIES, Abubakar Adam Ibrahim
Masobe Books
May 2, 2023
When a brooding artist encounters a moving train for the first time, serendipitous events occur. They trigger memories of past lives in which he was twice murdered—once on a train. With a third death in his current life imminent, he and a woman he meets go hunting for remnants of his past lives.
THE NIGHT BEFORE EID, Aya Khalil
Christy Ottaviano Books
March 7, 2023
On the night before Eid, it's finally time to make special sweet treats: Teita's famous ka'ak. Zain eagerly unpacks the ingredients from his grandmother's bulky suitcase: ghee from Khalo Karim, dates from Amo Girgis, and honey from Tant Tayseer—precious flavours all the way from Egypt. Together with Mama and Teita, Zain follows his family's recipe and brings to life Eid songs and prayers, pharaonic history, and the melodies and tastes of his Egyptian heritage.
ANGOLA IS WHEREVER I PLANT MY FIELD, João Melo
Iskanchi Press
January 30, 2023
In this collection of 18 humorous absurdist stories, Melo weaves together postmodernism, postcolonial realities, and Angolan history, through an intrusive narrator and author. Readers will laugh as they reflect on life and society through stories set in Luanda, Haifa, America, and North-Korea.
THE WIDOW WHO DIED WITH FLOWERS IN HER MOUTH, Obinna Udenwe
Masobe Books
February 7, 2023
A beautiful woman is discovered half-naked and dead, but is the killer one of her wealthy suitors? A young doctor arrives at the brink of insanity after a forbidden entanglement with a married woman. A sexually promiscuous tailor's return to her father's house sparks lust, jealousy, chaos, and violence. These stories, by the winner of the Chinua Achebe Prize for Literature, open a window into Nigerian life.
SHUBEIK LUBEIK, Deena Mohamed
Pantheon
January 10, 2023
A brilliantly original debut graphic novel that imagines a fantastical alternate Cairo where wishes really do come true. A story of three people who are navigating a world where wishes are literally for sale.
WATCH US DANCE, Leila Slimani
Viking
June 20, 2023
On the cusp of adulthood in the 1960s, two biracial siblings—their father is Moroccan, their mother French—search for their place in a newly independent Morocco brimming with both possibility and peril. Inspired by the author's family story.
THE CABAL, Odafe Atogun
Masobe Books
January 30, 2023
Bako Thomas lives a solitary life, a calm centre in an increasingly unstable world. The city outside his apartment is sliding towards a dystopia as a fuel crisis holds citizens to ransom. When a tragedy forces him to go on the run, he is roped into the murky world of politics and corruption he thought he had left behind for good.
HOUSE WOMAN, Adorah Nworah
The Unnamed Press
June 6, 2023
When Ikemefuna is put on a plane from Lagos to Texas, she anticipates her newly arranged All-American life: a handsome husband, a beautiful red-brick mansion in Sugar Land, pizza parlours, and dance classes. But she soon discovers what it actually means to live with her in-laws.
ROSE AND THE BURMA SKY, Rosanna Amaka
Doubleday
February 23, 2023
In a village in southeastern Nigeria on the brink of the Second World War, a boy joins the army to impress a girl and to support his family. But the girl becomes pregnant for another man, and as the Burma Campaign mounts, the boy is haunted by the mystery of the man. Until his identity comes to light and devastation sets in.
THE INSTITUTE FOR CREATIVE DYING, Jarred Thompson
Afritondo
February 1, 2023
Five strangers—a model, a former nun, a couple in crisis, and an offender newly released from prison—have come to the unnumbered house to discover an end to life as they've known it. Placing their trust in their hosts, the five open their minds and bodies to an alternative experience. Not all of them will survive—at least not the way they imagined.
RIAMBEL, Priya Hein
The Indigo Press
February 23, 2023
15-year-old Noemi has no choice but to leave school and work in the house of the wealthy De Grandbourg family just across the road from the slums where she grew up, and she encounters a world that is starkly different from her own.
BLOOMER, Anne Schlebusch
Modjaji Books
February, 2023
During the pandemic lockdown, 70-year-old Maggie ditches her bra, browses an old diary and reconnects with her artist self. While the world is happier with its oldies locked away, the lovable and maverick elders of Hazyview Mansions, galvanised by Maggie and her four close friends, have their own ideas.
THE MYSTERY AT DUNVEGAN CASTLE, T. L. Huchu
Tor Books
August 29, 2023
Duels, magic, and plenty of ghosts await in the third book of Huchu's USA Today bestselling Edinburgh Nights series. A 15-year-old ghosttalker arrives at the worldwide Society of Sceptical Enquirers' biennial conference just in time to be tied into a mystery.
EVERTHING IS NOT ENOUGH, Lolá Ákínmádé Åkerström
HarperCollins
October 24, 2023
The second novel from the author of In Every Mirror She's Black follows three women as they try to navigate life, love, prejudice, and privilege in Sweden. Their lives begin to overlap in the most unexpected of circumstances.
THE FINEST THIEF IN THE KINGDOM, Sadeq Naihom
Darf Publishers
March 28, 2023
In this collection, Naihoum brings to life a wonderful tableau of characters in his native Libya, from Sultans and Faqihs to dervishes, thieves, and beggars, shedding light on the dark corners of power and religion, social injustice and racism.
LUCKY GIRL, Irene Muchemi-Ndiritu
Dial Press
May 2, 2023
Raised by her stern, conservative mother and a chorus of aunts, headstrong Soila has lived a life of privilege in Nairobi. After a harrowing assault by a trusted family friend, she flees to New York for college, vowing never to return home. But '90s New York is not what she imagined. Love comes and she must decide whether to honour her Kenyan identity or to forge a life of her own design.
THE NIGERWIFE, Vanessa Walters
Atria Books
May 2, 2023
Nicole Oruwari has the perfect life. She left gloomy London and a dark family past behind for sunny, moneyed Lagos, becoming part of the Niger wives—a community of foreign women married to wealthy Nigerian men. But when she disappears after a boat trip, her Auntie Claudine decides to take matters into her own hands.
SONS OF THE EAST, Ifeoma Chinwuba
Griots Lounge Canada
November 1, 2023
In a tradition where a widow must marry one of her late husband's brothers, a young widow must make a choice.
ADA'S ROOM, Sharon Dodua Otoo
Riverhead Books
March 28, 2023
In 1400s West Africa, a woman buries her child and confronts a Portuguese enslaver. In Victorian England, another woman, Ada Lovelace, a mathematical genius and computer programming pioneer, tries to hide her affair with Charles Dickens from her husband. A third Ada, imprisoned in a concentration camp at Mittelbau-Dora in 1945, will survive one more day in enforced prostitution. As their interwoven narratives converge on a modern-day Ada, a young Ghanaian woman who finds herself pregnant, alone, in Berlin, searching for a home before her baby arrives, their shared spirit will find a way to help her break the vicious cycle of injustice.
A SPELL OF GOOD THINGS, Ayọ̀bámi Adébáyọ̀
Knopf
February 7, 2023
A story of modern Nigeria and two families caught in the riptides of wealth, power, romantic obsession, and political corruption. In her second novel, Adébáyọ̀ explores the gaping divide between the haves and the have-nots, and the shared humanity that lives in between.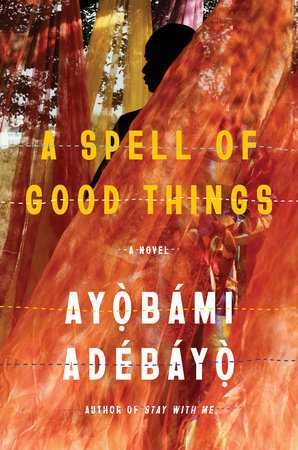 NOW I AM HERE, Chidi Ebere
Picador
March 23, 2023
The armies of the National Defence Movement have been crushed and the unnamed narrator and his unit are surrounded. Preparing for defeat, and with only his sins for company, he turns to confession. As he recounts the events leading to his disastrous finale, we learn how a gentle man became a war criminal.
SMALL WORLDS, Caleb Azumah Nelson
Viking
May 11, 2023
The one thing that can solve Stephen's problems is dancing, and he has only ever known himself in song. But what becomes of him when the music fades? Set over the course of three summers in Stephen's life, from London to Ghana and back again, this is an exhilarating and expansive novel about the worlds we build for ourselves, the worlds we live, dance, and love within.
More Book Lists
— The 60 Notable Books of 2022
— The Anticipated Books of 2022