The Zambian-born poet Kayo Chingonyi has released his second collection of poetry, A Blood Condition. Published by Penguin Books and currently shortlisted for the Forward Prize for Best Collection, it has been described as "moving, expansive and dazzling."
From their website:
A Blood Condition tells a story of inheritance – the people, places, cultures and memories that form us. Kayo Chingonyi explores how distance and time, nations and a century's history, can collapse within a body; our past continuous in our present.

From London, Leeds, and The North East to the banks of the Zambezi river, these poems consider change and permanence, grief and joy, the painful ongoing process of letting go, with remarkable music and clarity.
"I hadn't been connected to the myths that come from Zambia too much, and obviously I had them in my life, in one way or another," Chingonyi said of writing the book. "But I feel like, in writing poetry in English, I often draw from the myths that are close at hand in the West. And connecting with my culture. . . that was really moving, because I was like, 'OK, there's strong, deep myths that I can draw on.'"
It led him to think about the history of his homeland. "I wanted to talk about a personal grief that's connected to a blood condition, to HIV as it functions in terms of its personal resonance in my life. But also, I wanted to talk about a national and generational grief as well. I wanted to talk about the world that was possible in Zambia, in the generations that preceded me and the worlds that transpired in Zambia."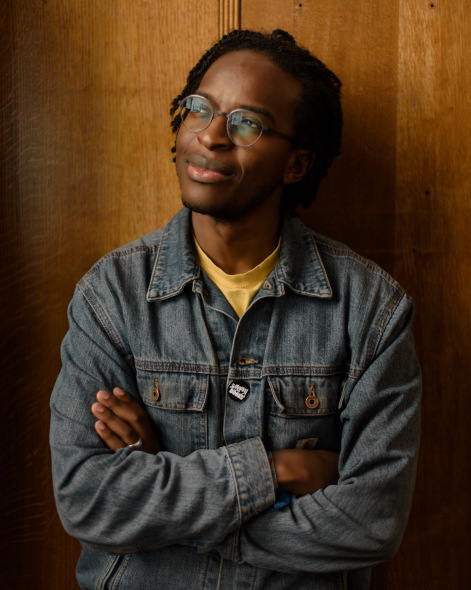 In a review, The Guardian wrote: "Chingonyi's poems grow out of gaps, out of the moments when nothing more can be done. The dead cannot be recovered, time cannot be reclaimed, the damage to the river is likely to be permanent, but a poem can be written and take its quietly powerful stand."
The Telegraph praised "Chingonyi's voice [which] finds its full-throated maturity. . . Deep introspection becomes the vulnerable and brave heart of the book, rendered into jewel-like poems in 'Origin Myth'. . . An elegantly spare, cathartic and poignant but never indulgent collection that invites repeated reading."
The Observer notes: "Dignity is an interesting quality in a writer – it cannot be faked without presenting as pomposity. Chingonyi's authentic, reined-in passions are stirring."
Born in Zambia in 1987, Kayombo "Kayo" Chingonyi moved to the UK at the age of six after both his parents died of HIV-related illnesses. He has authored two pamphlets and is a fellow of the Complete Works programme for diversity in British Poetry. In 2012, Chingonyi was awarded a Geoffrey Dearmer Prize. His debut collection Kamukanda (2017) earned him the Dylan Thomas Prize and a Somerset Maugham Award, and was also shortlisted for the Costa Poetry Prize and the Seamus Heany Centre First Poetry Collection Prize.