Ukamaka Olisakwe always wanted to prove a point. Told in secondary school that the Arts class was for the lazy students, and the Sciences for the brilliant, she chose the latter. She married early, and after graduating with a degree in Computer Science from Abia State Polytechnic, she went on to motherhood.
In 2009, she worked a customer service job at a bank in Aba, southeastern Nigeria. One day, during an email exchange with a senior colleague, in an effort to exonerate herself on a matter, she explained what had happened like she was telling a story. He asked if she was a writer. She wasn't and had never had interest in writing. He began encouraging her to write because she was a good storyteller, but his persistence annoyed her.
Twelve years on, Olisakwe, 39, has released two novels, Eyes of a Goddess and Ogadinma, Or: Everything Will Be All Right. She has been selected as an Africa39 honoree and a fellow of Iowa's International Writers' Program, bagged a Prince Claus Fund Grant and an Emerging Writer Scholarship at the Vermont College of Fine Arts, started a PhD in English at the University of South Dakota, and, last year, launched a literary magazine, Isele, in honor of her grandmother. Along the way, she wrote the screenplay for the Africa Magic Showcase TV series The Calabash.
Olisakwe's grit has been present since childhood. She spent the first 19 years of her life in Kano State, in Nigeria's conservative, Muslim-majority North. She would later look back on her first home as a kind of safe haven, but back then she resisted. She was the only girl in her street football club and all the other clubs comprised just boys. Inspired by the 1966 Italian Western film, The Good, the Bad and the Ugly, she would fly down the floors of a building and jump a fence to land astride a motorbike; she would smuggle out trousers to wear at a friend's place, to the chagrin of her mother.
"I enjoyed my rebellion," she tells me on our Zoom call in August. "My mum was very protective of us. She didn't want society to mock us, to dismiss us as 'corrupt.' But I didn't understand until much later."
After secondary school, she left Kano for Lagos, and lived with her aunt's family briefly. There she tasted a bit of freedom: girls wore trousers and lipstick and midriff tops. The experience would feed into Ogadinma, whose protagonist is overwhelmed by Lagos.
It was this thirst for freedom that drew her to Aba, after a visit to her soon-to-be mother-in-law. Here she was, unbound from restrictions common in the North, free to wear what she wanted. And so when her husband proposed, she was eager to leave for the southeastern, liberal lifestyle, enthralled by the prospect of not being policed in her dressing and behavior. It was a feeling she recalls as naïve: she would discover a different dimension to policing that came with marriage.
"I moved from my father's house to my husband's house," she says. It was not a pretty discovery for a woman who always wanted to live on her own terms.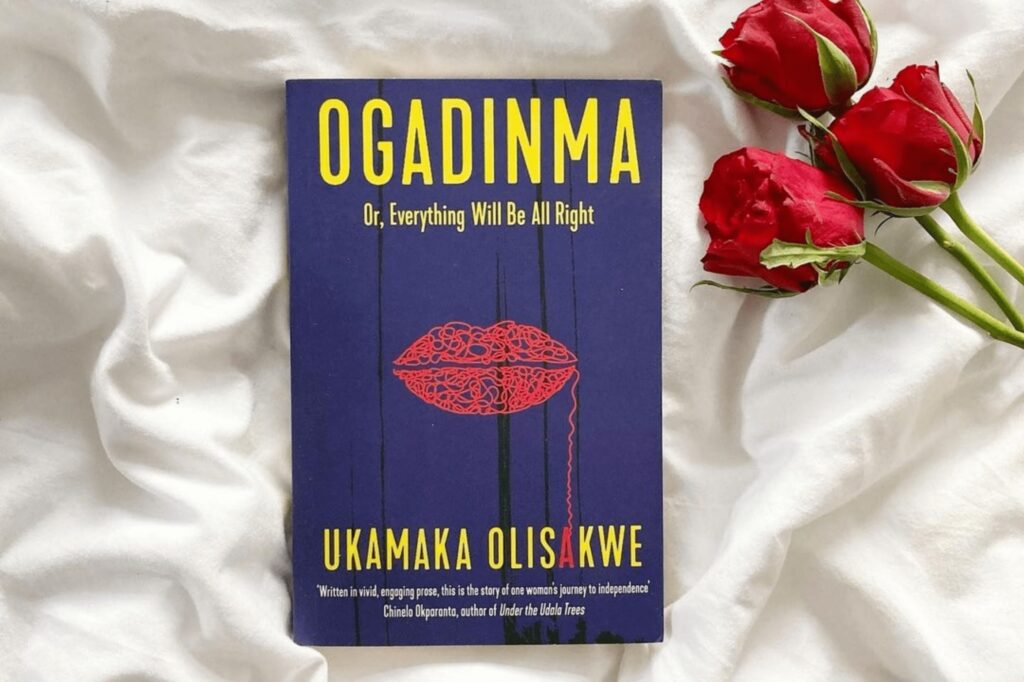 After her bank colleague's encouragement, Olisakwe began reading. She read books by Nnedi Okorafor, Chimamanda Ngozi Adichie, Chika Unigwe, Lola Shoneyin, and Buchi Emecheta, and she began to contemplate the complexity of marriage, what it means to be a woman, particularly an Igbo woman.
These writers "told me it's okay to tell my stories," she says. "They sort of showed me the way to tell those stories, the way to look at my community and interrogate the things we do excellently well, the things we don't do so well, the things I feel we should talk about that we don't really talk about."
It laid foundation for her exploration of different narratives of womanhood—childbirth, marriage, postpartum complications. Her first novel, Eyes of a Goddess, was published by Piraeus Books in 2012. It follows a young goddess amidst political unrest in Nigeria. While she chose to "stray away from the familiar" with the book, the story in her second effort, Ogadinma, was too real and concrete to go the speculative route.
Ogadinma is set in the early '80s (Olisakwe was born in 1981.) She recalls the research as rigorous but enjoyable. To get a feel of how Nigeria was at the time, she dug through old photographs and BBC archives. She listened to musicians—Sunny Ade, Ebenezer Obey, Osadebe—and had many conversations with her father.
The novel was published by The Indigo Press in the U.K. and Masobe Books in Nigeria. The eponymous heroine dreams of a university education. A man rapes her, and, learning of the consequent pregnancy and abortion, her father exiles her to an aunt in Lagos. This sets off events that test her resilience through grief, verbal and physical abuse from the older man she marries, and the weight of societal obligation and patriarchal domination. The novelist Chinelo Okparanta praised the book's "vivid, engaging prose." An excerpt appeared in Granta and the magazine named it among its "Top Reads of 2020." A starred review in Publishers Weekly called it a "smart, unforgettable novel [that] sings out with an earnest hope for an end to intergenerational abuse."
Olisakwe did not enjoy writing the story. "It still happens to girls in our community today. Those sad realities happened to my mother's generation and those before them. It didn't matter when I set that story. Ogadinma's experience is still very contemporary."
The novel reads so real that people have asked if it was her story. They have also asked why Ogadinma did not push back. "The truth," Olisakwe tells me, "is that those women did not."
In 2013, Olisakwe saw Binyanvanga Wainaina's Facebook post about the Africa39 project. The Hay Festival and the Rainbow Book Club project were looking to select "the most promising 39 authors under the age of 40 from Sub-Saharan Africa and the diaspora," who "have the potential and the talent to define the trends." She applied and was chosen, alongside some of the continent's leading writers, including Chimamanda Ngozi Adichie, Dinaw Mengestu, and Taiye Selasi.
The list, announced in 2014, put her on the map. She started getting speaking invitations from people who previously ignored her work. The validations emboldened her to quit her job at the bank.
"I felt I was doing something right," she remembers. "What it did also was to rekindle that old childlike, adventurous spirit to do something daring. And I think the most daring thing I've ever done is to leave my family in Nigeria and move to the United States."
Pursuing a PhD at the University of South Dakota means that, for the first time, she is living by herself and on her own terms. But the joy is accompanied by some guilt in being away from her family, something she is now exploring in a personal essay.
"Isele" first manifested as a literary space in 2013. After attending a performance by the spoken word poet Dike Chukwumerije in Abuja, Olisakwe collaborated with Saraba magazine to start the Isele Spoken Word Poetry Competition, with a N50,000 prize she raised herself.
The name is a tribute to her late grandmother, a brilliant dancer given the praise name "Isele Nwanyi," for her flair and beauty of carriage. Before the Biafran War, she was also a performance poet and singer. In their hometown of Abagana, Anambra State, Isele Nwanyi sang dirges and fables, dancing and clanging her ichaka.
"Our literature is deeply oral and my late grandmother maintained that tradition," Olisakwe says. "She sang what contemporary poets today now transcribe in print. I struggle with poetry because I have a lot to say, but I like to think that I inherited her flair and love for language."
The spoken word contest was a success but Olisakwe wanted to do more. It was not until her M.F.A. in Vermont that she had the idea for a literary magazine. Isele's inaugural issue appeared in July of last year, featuring solicited writing. The magazine's team currently includes Olisakwe as editor-in-chief, Megan Ross as poetry editor, Tracy Haught as fiction editor, and Rebecca Jamieson as nonfiction editor.
Recently, the magazine received money to pay contributors for the next few months. But after this, Olisakwe is resolute in continuing to pay them from her student stipend, as she had done for a year now, until Isele gets a working structure.
"I don't ever want to stop paying writers," she says. "Even if it means not eating. I hope we get the money to pay these writers and pay them well."
Isele is focused on African literature but welcomes contributions from around the world. It plans to publish writers from up to 50 countries, and so far has covered Angola, Morocco, Egypt, and South Korea. "We put them in conversation with our own writing," she says. "I want it to be sort of a conglomerate of ideas from across the continent."
She applies this notion of interconnectedness in her teaching. "We see everything through the lens of the American. Even blackness is defined by the African-American experience. Racism, feminism—defined by the American experience. I am actively pushing back against that." In class, she includes poetry from Sudan, South Africa, Somalia, Japan, Kenya, and China, along with stories from Lolwe, Doek!, and Isele.
Olisakwe speaks with pride about the stories published by Isele; she mentions two, Roseline Mgbodichinma's "Souvenirs" and Ifesinachi Okonkwo's "Year of the Sun." "It's incredible," she says of the work being done in the African literary scene.
She appreciates that her work ethic came from her grandmother, whom she was told was her "spitting image." "I like to think that I carry her resilience inside me," Olisakwe says. "She held her ground in the face of the toughest adversaries. Her husband passed when her children were young and she raised all five of them; she secured not only the land my father's eldest brother inherited, but ensured that our clan gave my father new land to build his own house."
Olisakwe aspires to that strong-headedness, but with moderation. "Sometimes, in my case, it takes an emotional toll. I do not rest until I have completed that which I had set my mind on. However, I also want to be kinder to myself. I want to live a little more, laugh a lot louder, be a lot more playful." ♦
Edited by Otosirieze Obi-Young.
More Essential, In-depth Stories in African Literature
— How Teju Cole Opened a New Path in African Literature
— With Novels & Images, Maaza Mengiste Is Reframing Ethiopian History
— How Tsitsi Dangarembga, with Her Trilogy of Zimbabwe, Overcame
— Nigerian Literature Needed Editors. Two Women Stepped in To Groom Them
— Mark Gevisser's Long Mission of Queer Visibility
— How Lanaire Aderemi Adapted Women's Resistance into Art
— TJ Benson Holds History and Hope
— Hannah Chukwu's Call to Help Uplift Unheard Voices