I have told this story many times: It was June 2012, and I was a second year undergrad in Nsukka, when I first read Chimamanda Ngozi Adichie. Someone gave me a copy of Half of a Yellow Sun to review, and midway through the book, I closed it and took a walk around Mbanefo Hostel, and realized that my life had changed, that I would ditch my dream of becoming a history professor and choose to write seriously. Later that year, I read Purple Hibiscus, and the following year, I bought Americanah at the university bookshop. She became the chief influence in my prose. Many writers, and people generally, of my generation would remember their first encounter of Chimamanda Ngozi Adichie's words and what she came to mean to them.
Half of a Yellow Sun was published in 2006. In 2016, I wrote a feature marking its tenth anniversary, and even then, I looked forward to writing another on its fifteenth anniversary. I did not at the time imagine that it would be a profile of the great writer herself.
Her story, of course, also started in Nsukka, in that famed university where her parents broke new grounds. Nsukka is an artistic tradition she inherited, and then, within literature, set it on the path to becoming a geographical genre. When I was planning the launch of Open Country Mag, identifying gaps in our cultural knowledge to fill, I knew that I had to do this—retell and reframe her story in a Nigerian context.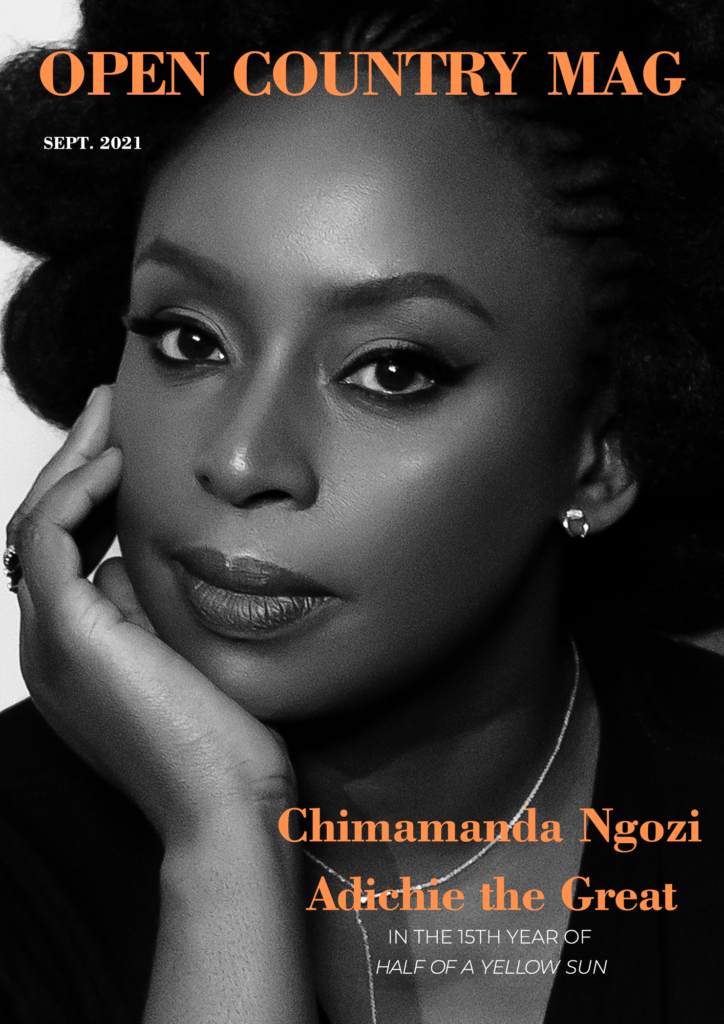 Four days after Open Country Mag launched, we reached her team. A week into the new year, our proposed Zoom call was replanned as a physical meeting. The interview took place in February, in her house in Lagos, and it is Open Country Mag's first and so far only sit-down interview.
I had an hour and 30 minutes, but the person I met is someone who is warm and welcoming and humourous and speaks freely, and my visit stretched to five hours. It was a wide-ranging conversation on the workings of literature and politics, gender and sexuality, and race, love, and loss.
At the time of our interview, she was mourning only her father, who passed on in June 2020. Four days after our interview, her mother passed on, too.
This cover story was meant to focus on just Half of a Yellow Sun, but with her losses, it would have felt incomplete, so we enlarged the story to cover her evolution. She is a woman whose familial bubble has burst, and, at 44, she is rethinking things. I waited and attended her mother's burial in May. Then we chose September as our release month.
Chimamanda Ngozi Adichie's transcendence of literature was one of the biggest stories in culture in the last decade. Like a monarch, she presides over a nexus of literature, politics, fashion, and identity, drawing both praise and criticism, but is always able to singularly move and even change the cultural conversation. In our very large pantheon of Black female exceptionality, she manages to stand alone.
And yet against the fame, she is pushing back, reclaiming her humanity, her rights to remain an individual with a mesh of feelings. A New Yorker profile of her suggests that she has "come to terms with global fame." What I found, in the course of writing this one, is a public person who isn't accepting of the entire baggage of fame, who insists on being treated firstly as a person. She is unwilling to cede even a small part of her individuality.
It was 10 p.m. when I stood to leave, and she asked me, "How tall are you?" I tell her. But what I really wanted to say was that it is her height that I came to note.
This is momentous for Open Country Mag, still just nine months old. It is our fourth cover story, after Tsitsi Dangarembga in December 2020, Maaza Mengiste in January 2021, and Teju Cole in July 2021. It is a thrill that an African literary platform where we can tell key stories now exists.
COVER STORY: "Chimamanda Ngozi Adichie Is in a Different Place Now"