I was moved to start the Open Country Mag Curatorial Fellowships because of my experience coming up in the African literary scene. There seemed to be a lot happening then, a lot of enchantment with the publications, the few awards, the workshops, and the festivals, and yet there was very little that was novel, that nudged the culture into new territory and allowed us to be seen as tested and equal contributors to the global infrastructure of ideas. As a self-taught writer, editor, journalist, and curator, I know how difficult it is to innovate without examples and to succeed without institutional support, to build institutions without funding, so I always wanted to share what I have learned, to teach a workshop for new African curators. But I also did not want to ask applicants to pay, because it would defeat the point of creating access. So when Africa No Filter saw this vision for a practical application of ideas and wanted to fund it, it had to come to life in the best way possible. I am unsure if it had been done before in the African culture scene.
The aim of the Open Country Mag Curatorial Fellowships is to provide direct motivation, technical know-how, and funding support for new projects in a range of artistic fields: literature, film, music, visual art, photography, fashion, tech, and media. The format is to have the Fellows be mentored by three experienced young curators who made their own way: Lumen Prize winner Minne Atairu, A Nasty Boy founder Innanoshe Akuson, and me. Together, the Mentors' works and education span media, literature, film, history, fashion, activism, law, art, tech, AI, and music — enough to cover the majors.
The plan is to activate the Fellows' project ideas, offering two of them $2,000 each and the other two $1,000 each to finalize them. At the end of the Fellowship, Open Country Mag will publish or present the projects, with the Fellows holding the copyright.
In May, we made a call for submissions. We were looking for ideas that are:
groundbreaking endeavours in single fields (say, literature alone, film alone, or art alone)
cross two or more fields (say, literature and visual art, film and music, fashion and tech and photography)
Atairu, Akuson, and I read and discussed each proposal, focusing on the novelty and significance of the idea and the applicant's capacity to deliver it in time. In the end, rather than stick to the initial plan of choosing four Fellows, we decided to select all six remaining finalists as Fellows. There are incredibly few funding sources in the continent, and that is the more reason why resources should be spread, the more reason an initiative like ours exists.
Our six inaugural Curatorial Fellows have innovative and thrilling ideas that seek to reclaim history, recast culture, and conserve the environment. Their projects represent the range of creativity we always wanted to highlight.
The Fellows
Mirriam Francesca Nkosi will curate Luba, a musical, art, and photography exhibition on indigenous flowers in Malawi. The Fellowship will support Luba with $2,000.
From her proposal:
Pre-colonial African cultures had their own symbolic meaning for flowers. In the early Buganda Kingdom, for example, flowers were a coded language used in rituals and courting. In the time since, the history and meaning in African flowers have been washed away. Malawi has over a 100 endemic flowering plants. The artists featured in Luba will explore the meaning of a flower of their choice, creating an art piece.

I intend to create a sound installation called The Tree of Knowledge, to speaks to the cultural significance of specific trees and the stories surrounding them that have been passed on. It will harness the sounds the trees make, coupled with soothing melodies and my natural vocals. It will allow us to listen to the tree and its story.

Luba is an expression of indigenous knowledge and Malawian history, and an attempt to create awareness and restore ownership of Malawian flora, to not only preserve it but to continue the tradition of creating our own meaning. I believe that this exhibition is replicable and could spark an interest across the continent to trace back our roots and culture through flora.
Mirriam Francesca Nkosi is a singer, songwriter, and sonic storyteller from Malawi. In 2020, she won an online music cover competition hosted by Mr. Eazi and George Kalukusha, and recorded her debut single "Come Back to Me." After her second single "Yang'ana Mwamba," she released her first body of work, Scattered but a Little Put Together, in 2021. She has since held a residency at Modzi Arts in Lusaka, and performed on different stages across Malawi, at the Revitalise Feminist Festival organized by Pepeta Africa in 2022, and the Zamrock Museum showcase in Zambia. She has partnered with Pepeta Africa and Wona to speak to issues affecting young people through a YouTube series and a collaborative EP. 
Credit: Luba, funded by the Open Country Mag Curatorial Fellowship.
Izuchukwu Udokwu will design It's Bloom Time, a 3D fashion and storytelling series exploring individual struggles and identity. The Fellowship will support It's Bloom Time with $1,000.
From his proposal:
As a fashion designer and a storyteller, the goal has always been to tell stories through the outfits that I make. And what a wonderful thing it is to wear a story responsible for repairing the broken dignity of a person or a people. In my previous collection, Agha Ajoka (War is Ugly), we told the story of the Biafran War, focused on the resilience of women in ensuring survival. We combined poetry, music, and a series of photographs to form progressive, live-art visuals.

It's Bloom Time is sustainable fashion. We will create 20 designs in 3D rather than with fabrics. They will tell a story of the struggles we have faced, struggles of identity, and our search for where we belong.

The hope that it propels other fashion designers to join in the achievement of a carbon-neutral fashion industry. Production of these outfits would now be based on orders from interested clients, zeroing in on the problem of overconsumption and overproduction that is associated with fast-fashion.
Izuchukwu Onyedibiemma Udokwu is a Nigerian storyteller and fashion designer living in Lagos. He is the founder of Zuny Label. Vanity Teen named him a designer to watch. His writing has appeared in Afreada, Kalahari Review, and Lolwe. He was shortlisted for the 2020 K & L Prize and published in an anthology of Africanfuturism, Black Skin No Mask.
Credit: It's Bloom Time, funded by the Open Country Mag Curatorial Fellowship.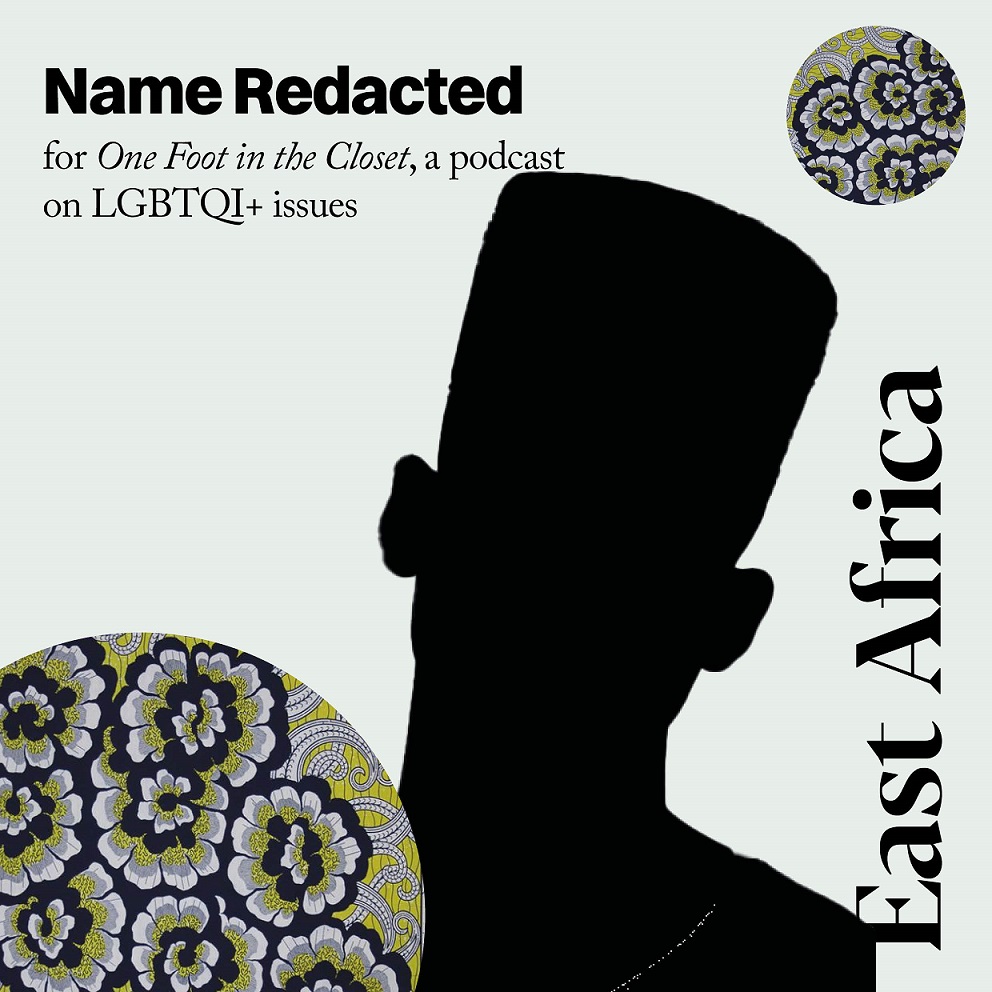 Name Redacted will record Season 2 of One Foot in the Closet, a podcast on LGBTQI+ issues. The Fellowship will support One Foot in the Closet with $1,000.
From their proposal:
I move through the world as male-presenting, for reasons of safety, reasons that my queer and beyond-the-binary kin across the African continent know all too well. I am East African, and this is particularly poignant as Uganda just passed a bill making LGBTQI+ advocacy work punishable by 20 years in prison, so I operate with a pseudonym and use voice-altering technology, as do all my interviewees. The moniker "Name Redacted" serves as a powerful reminder of the lack of safety for Queer and beyond the binary individuals.

One Foot in the Closet will focus on more diverse intersections of the Queer and beyond-the-binary African experience. From Disabled Queer Africans, such as myself, to Trans Queer Africans and Queer Intersex Africans, to Queer Neurodivergent Africans, to Queer Low-Income Africans, to Queer Africans of all body sizes, to Queer African refugees, to Queer Africans with differing levels of conventional education, to Queer HIV+ Africans. Our conversations will be as inclusive as possible.
Name Redacted is a Queer, Polygender East African podcaster. They are the creator and host of the upcoming podcast One Foot in the Closet. Season 1 of the podcast was funded by a Queering Encounters in African Feminisms Grant from The House of African Feminisms, a project by the Goethe-Institut Kigali, Goethe-Institut Lagos, and Goethe-Institut Johannesburg. Follow One Foot in the Closet on Instagram, Twitter, and Facebook.
Credit: One Foot in the Closet, Season 2, funded by the Open Country Mag Curatorial Fellowship.
Amaka Obioma and Vetum Galadima will develop Among Us, an artistic research, digital art, and mixed media project on Nok terracotta. The Fellowship will support Among Us with $1,000.
From their proposal:
The first Nok terracotta figurines were accidentally found by a tin-mining company in 1928. Further investigation, from 1943, led to the excavation of more sites in Jemaa, Taruga, and Jos, which were found to have terracotta concentrations resembling earlier settlements.

As historically important as the Nok cultural landscape is, proper protection and conservation efforts have been minimal. Researchers have failed to educate and involve the local community on the importance of Nok culture and its terracotta. Left behind are meagre photographs while foreign museums abound in cultural material associated with the Nok civilization. This means that the general Nigerian population lacks access to Nok artifacts.

Among Us is an interdisciplinary project that uses Augmented Reality to create a virtual scape of Nok artifacts. It combines the concepts of museum technology and art direction. The result will include a mixed media collage zine with illustrations.

As discussions on climate issues prevail, our research into how the Nok Civilization adapted to its environment, while creating unique art that has survived time, will prove insightful. Among Us will work as alternative ecotourism that also highlights local museums and economy.
Amaka Obioma is a multimedia artist who works in performance, visual storytelling, fashion, and artistic research. She currently co-curates Tantdile Xperimenta Lab, an art collective that collaborates with the general public in a discussion of social issues. Her work explores human connection in the global stratosphere and means of sustainable living, womanism, and the body as media. It integrates freedom in perspective, syncretic beliefs, and socio-cultural activism.
Vetum Gima Galadima is a visual interdisciplinary artist and curator from Kaduna. She is the creative director of Villager's Paradise, of The Sundial, and of Vetum's Pop -Up Space. She has a B.A. in Archaeology from Ahmadu Bello University and has working experience at the National Commission for Museum and Monuments, Ataoja's Palace, and the Osun Osogbo Sacred Grove. She is a 2021 Arts in Medicine Fellow and was a participant of the Goethe-Institut and Institut Francais 2021 Networking in Times of Crisis Digital Workshop. She has curated art exhibitions, including the #ArewaMeToo exhibition in Kaduna.
Credit: Among Us, funded by the Open Country Mag Curatorial Fellowship.
Ini-Abasi Jeffrey will produce a yet untitled short documentary on Nollywood culture and history. The Fellowship will support it with $1,000.
From his proposal:
Nollywood has told interesting stories: from colonial times to early 2000s films when low-rise jeans and moral lessons filled our screens, to the 2010s when comedy reigned supreme. Now we are in the era of crime thrillers, stories trying to capture the dark underbelly of politics — specifically in Lagos — inspired loosely by true life events. But these threads of connection are rarely acknowledged and are largely undocumented.

My documentary will trace Nigerian films from different eras and their evolution and influence on the current era. I will speak to the directors, producers, and actors of earlier sets, the new crop of filmmakers, as well as critics and culture commentators, in order to get a more grounded perspective of how the films were received. I will also address the shortcomings in addressing women's stories and queer representation, while also highlighting the ways our films have influenced the broader culture.
Ini-Abasi Jeffrey is a Nigerian writer and aspiring filmmaker currently studying for a degree in Dentistry at the University of Calabar. He was part of the inaugural Inside Nollywood Film Journalism Fellowship. He has written for OkayAfrica, Bella Naija, Film Cred, and What Kept Me Up. His work often focuses on the ways in which films change people's lives. He is currently in the very slow process of making his first film.
Credit: Untitled!, funded by the Open Country Mag Curatorial Fellowship.
The Mentors
Innanoshe Akuson is a lawyer, activist, and the founder and former editor-in-chief of A Nasty Boy, West Africa's first queer fashion magazine. He was associate nonfiction editor at Guernica. He was an editorial content curator at Twitter, with focus on Sub-Saharan Africa. His writing has appeared in The New York Times and The Washington Post.
He started as a fashion journalist at BellaNaija, where he wrote stories that affirmed the diverse and richly textured sartorial expressions of genderqueer Nigerians — a complete departure from the all-pervading bigoted stereotyping of LGTBQ people across mainstream Nigerian media.
He created A Nasty Boy in 2017 to offer an accurate and positive representation of queer Nigerians, through unflinching personal and visual essays that brought to light the costly and, often, irreparable personal toll of homophobia. The publication has been credited for springboarding a new era of cultural activism in Nigeria and challenging socio-cultural perceptions and expectations around gender and sexuality.
In 2017, he was nominated for The Future Awards Africa Prize for New Media, and, in 2020, for The Future Awards Africa Prize for Activism. In 2019, at 26, he was named one of Forbes Africa's "30 Under 30" changemakers, and, later that year, one of Forbes Japan's "30 Under 30 from the World of Forbes." In 2017 and 2020, YNaija named him one of its "100 Most Powerful Young Nigerians Under 40." In 2021, he was named one of Global Citizen's "10 African LGBTQ Activists to Know." He was a speaker at the 2022 World Bank Youth Summit.
Minne Atairu is an interdisciplinary artist and doctoral student at Columbia University. Her research-based practice seeks to reclaim the obscured histories of Benin Bronzes. Utilizing Generative AI and additive fabrication, she reassembles visual, sonic, and textual fragments into conceptual works that engage with repatriation-related questions.
She holds an M.A. in Museum Studies from The George Washington University, D.C., and a B.A. in Creative Arts from University of Maiduguri, Nigeria.
She has exhibited and performed at The Harvard Art Museums; Markk Museum, Hamburg; SOAS Brunei Gallery, University of London; Microscope Gallery, New York; and Fleming Museum of Art, Vermont.
In 2021, Minne received the Lumen Prize for Art and Technology (Global Majority Award) for Igùn, an AI-driven project that seeks to uncover unknown Benin Bronzes. She is currently a metaLAB Affiliate at Berkman Klein Center for Internet & Society, Harvard University.
Otosirieze is a writer, editor, journalist, curator, and media consultant. He is the founder and editor of Open Country Mag, and was editor of Folio Nigeria, then CNN's exclusive media affiliate in Africa. This year, Open Country Mag became publisher of Folio Nigeria.
He has written about the Nigerian culture scene, covering innovation in over 20 fields, including film, art, music, tech, sports, cuisine, fashion, journalism, sculpture, beauty, health, and activism. His fiction has appeared in The Threepenny Review and Transition.
He has an M.F.A. from the Iowa Writers' Workshop and an M.A. in African Studies from the University of Nigeria, Nsukka.
He has done extensive, groundbreaking work in African literature. At 23, he created the defunct Brittle Paper Awards, the first literary awards by an African platform. At 24, he became the youngest judge for major awards when he joined the panel of The Morland Scholarship. He chairs the panel for The Gerald Kraak Prize and is editor of its fourth anthology The Beautyful Ones Have Just Been Born. He curated The Art Naija Series, a sequence of themed e-anthologies of writing and visual art exploring different aspects of Nigerianness, including Enter Naija: The Book of Places (2016) and Work Naija: The Book of Vocations (2017). He was nonfiction editor at 14, Nigeria's first queer art collective. His work in LGBTQ advocacy was profiled in Literary Hub. Most recently, he co-conceptualized Nigeria's first formal bestseller list with bookstore Rovingheights. He is the curator of The Next Generation, a series of special issues by Open Country Mag that, each year, highlights 16 leading voices in African literature.
In 2019, he received the inaugural The Future Awards Africa Prize for Literature. In 2020, he was named among "The 100 Most Influential Young Nigerians" by Avance Media.
We will begin workshop and development of the projects, which we hope to present early next year.
Congratulations to Ini-Abasi Jeffrey, Amaka Obioma, Vetum Galadima, Name Redacted, Izuchukwu Udokwu, and Mirriam Francesca Nkosi!
All projects facilitated through the Open Country Mag Curatorial Fellowship should be credited as follows: "funded by the Open Country Mag Curatorial Fellowship." ♦
If you love what you just read, please consider making a PayPal donation to enable us to publish more like it.
Previous Announcements from Open Country Mag
— Open Country Mag Is Now Publisher of Folio Nigeria, Formerly CNN's Exclusive Media Affiliate in Africa
— After 2 Years Covering African Literature, Open Country Mag Expands into Film & TV
— Statement on Open Country Mag Story Replicated by Al Jazeera without Acknowledgement
— Multidisciplinary Designer Emeka Ugwu Named Art Director of Open Country Mag
— Open Country Mag Reissues Covers of African Literary Icons
— The Next Generation: Our In-depth Special Issue on Contemporary African Literature
— Open Country Mag's Launch Stories