As the new home of Folio Nigeria, a subsidiary of Folio Media, Open Country Mag is republishing culture stories that first appeared on the site under its CNN affiliation. This story was first published in 2020.
At the grade school age of five, Mayor Olajide was drawing with pencils and crayons. The images he reproduced on paper were the ones around him: family and friends, cartoon characters on TV, and footballers, including those in the Super Strikas comics. Those amateur sketches were nothing like the masterly images that were shared widely on Twitter last month.
He started professionally in 2015, aged 12, and began making his work realistic. He recalls the definitive moment in 2018 when he saw a painting by Arinze Stanley. "He was the artist that inspired me to take interest in hyperrealism," he shared. "That his self-portrait, the one with water on his face, that was the one that inspired me the most. Kelvin Okafor and Ken Nwadiogbu, they also inspired me."
Stanley, Okafor, and Nwadiogbu are leaders in the wave of hyper-realistic art that took the Nigerian scene in the middle of the 2010s. Due to the social media effect, they have captured the fascination of local and international media, bringing attention to a hitherto closed-off arts scene.
In 2016, Olumide Oresegun's oil on canvas paintings of children and water went viral, with most people mistaking them for actual photographs. In 2018, then 11-year-old Kazeem Waris went viral for drawing a portrait of French president Emmanuel Macron in two hours, and presenting it to him during his visit to Nigeria. Last year, Eli Waduba sold his portrait of Kevin Hart to the famous comedian after putting it on Twitter. Others include Ayogu Kingsley, Silas Onoja, Chiamonwu Joy, Raji Bamidele, Ayo Filade, Babatunde Olatunji, and speed artist Fola David, who is also a medical doctor.
"I started using charcoal alone as at last year," Olajide says. "Before, I was using graphite and charcoal, but I left graphite because of the effect I don't like. Graphite makes works shiny, when you look at it from some angles, it just spoils the effect you want. With just charcoal, I love the effect and speed; using it alone is faster than using it with graphite, because of the blending issues. Charcoal blends easily."
An early graphite artwork on his Instagram is one of popstar Davido's daughter Imade. A typical charcoal drawing is one of Lionel Messi. The longest it has taken him to finish a work is three months. "It's a drawing of Wole Arole, a comedian," he adds. "Normally, depending on the size, it takes me one or two days."
His first artwork on Instagram, uploaded in April 2019, is an image of a faculty dean at his school, The Polytechnic, Ibadan, where he is currently an ND2 student of Architecture. A lecturer had given him a reference photo of the dean. The response at the time, he says, "wasn't really encouraging. Zero likes." I tell him that it now has 71 likes. "71 likes?" he sounds surprised. "People have actually scrolled down my feed in recent times and liked it."
He used to draw from memory, but now every artwork he plans starts from a reference photo. "I use the Gridlines application to divide it into two sections and I grid the paper also. When I'm done with the sketching, I shade with the charcoal powder and the charcoal pencil, and blend them. After, I erase the grid and begin cutting out some parts."
People commission him to draw for birthdays or for decoration, but he is looking to create more personal work. "I will try to use them and speak to people about what's going on in society," he says.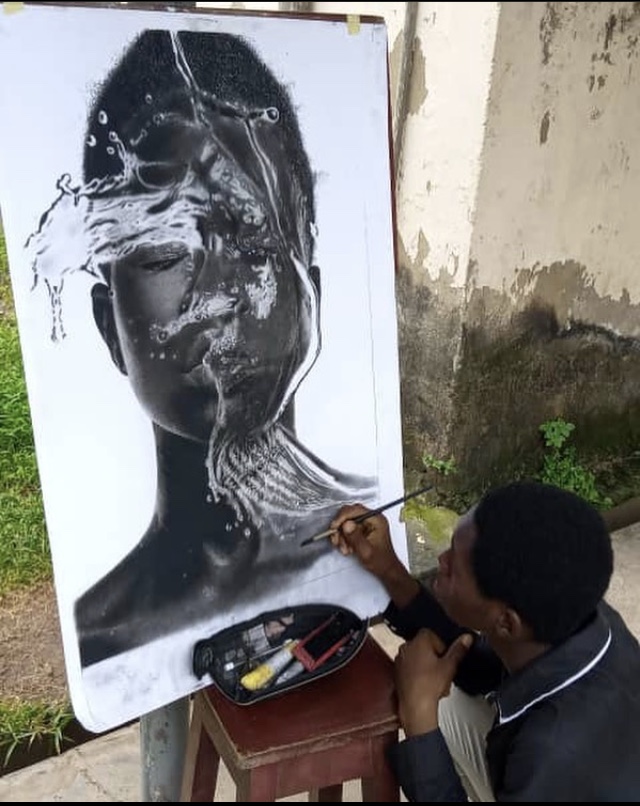 His drawing does not interfere with his studies. "My reason for studying architecture is to know more about buildings so I can collect contracts," he says. "After my ND2, I plan to study more, anywhere that is okay."
Olajide's father is an agriculture lecturer at Wesley University, Ondo, and his mother is a gospel musician. At first, they were reluctant to support him. "Initially, they saw it as a low standard job," he explains. "As time went on, they began to see how things were moving. They are now encouraging. We aren't rich but God is doing great things already."
Despite the attention he has received at 17, he feels no pressure at all. "I draw any time I'm in the mood. I don't have a specific time, even in the night I draw," he says. It's "something I do when I'm less busy, after school, during break time. A hobby. I even love the way I'm still young and I can do what I do. I love the freedom."
Drawing is not his only talent. His mother taught him how to play the guitar and he learned the bass by himself. "I want people out there to feel how talented Nigerian artists are," he says. "Just for them to appreciate art in general in Nigeria. To raise our culture."
And does he want them to feel reflected in his art? "They can also feel that way," he replies. "I love that, that's okay." ♦
If you love what you just read, please consider making a PayPal donation to enable us to publish more like it.
More Stories from Folio Nigeria Via Open Country Mag
— The Women Weavers of Akwete
— A 17-Year-Old's Hyper-realistic Portraits in Charcoal
— Against Sexism, Female Photographers Push Back with Skill
— How Taaoma's Comedy Skits Made Her a Social Media Phenomenon
— Intissar Bashr-Kurfi Is Collecting Nylon to Save the Environment
No One Covers African Literature & Nollywood Like Open Country Mag
— How Dakore Egbuson and Tony Okungbowa Traverse Trauma in YE!
— Cover Story, September 2021: Chimamanda Ngozi Adichie Is in a Different Place Now
— The O. Henry Prize Series Opens to African Magazines (Exclusive)
— Binyavanga Wainaina's Great Scatter of Work (Exclusive)
— The Epic, Transformative Comeback of Chidi Mokeme
— Adeola Osunkojo on Directing the Romances of Love Like This
— Cover Story, July 2021: How Teju Cole Opened a New Path in African Literature
— Writing Omo Ghetto: The Saga, Nollywood's Highest Grossing Film of All-Time
— Country Love Depicts Tenderness in LGBTQ Lives
— Cover Story, March 2023: Rita Dominic's Visions of Character
— The Making of Mami Wata, Nigeria's First Film to Premiere at Sundance