When C.J. Obasi made his first feature film, OJUJU, a 95-minute, zero-budget zombie story, the process was so stressful, it felt "death-defying." He followed it with O-Town, a semi-autobiographical gangster saga, and a short film, Hello, Rain, adapted from an Africanfuturist short story. He submitted them to film festivals: the BFI London Film Festival; the Africa International Film Festival, where OJUJU won Best Nigerian Film; Africa Utopia; the Gothenburg Festival; the Fantasia Film Festival. These were among the festivals that Nigerian indie filmmakers got into, that were traditionally attainable with indigenous stories.
Then in January 2016, C.J., who grew up watching horror films and reading horror novels, had what he described to me as "a literal vision." "I found myself on a gorgeous beach, with clean white sand, and when I looked towards the Ocean, I saw the goddess standing there. She seemed to look through me while beckoning to someone, so I turned around to see a young lady walking towards me. The young lady walked right past me and headed straight towards the deity."
He came to, with questions. Who was the young woman? And why did the deity call her? His curiosity guided his third feature film, a fantasy revenge thriller lensed in black-and-white, in which two sisters fight to save their village. He called it Mami Wata, after the eerie West African name for mermaids.
Last week, C.J. announced that Mami Wata will make its world premiere at Sundance, the biggest indie film festival in the U.S., in its World Cinema Dramatic Competition. It will be the first indigenously produced Nigerian film to screen to there. Held in Park City, Utah, Sundance's estimated physical audience of up to 46,000 filmgoers—last year's expanded online festival had over 600,000 views—makes it a plum podium for any indie film, especially one from Nollywood, which, despite being one of the world's three largest film industries based on production quantity, with the country's population of over 200 million attracting streaming giants Netflix and Amazon Prime Video, has some way to go before becoming a player with prestigious film committees in the U.S. and Europe. Part of the problem is quality, and the consistency of it, which in itself is partly down to infrastructural lack.
Mami Wata took five years of writing and development, at workshops and labs across Africa and Europe, and at some of them it received prizes. In Burkina Faso, in 2018, it won the Ouaga Film Lab's European Audiovisual Entrepreneurs (EAVE) Prize, beating nine other projects. In South Africa, at the Durban International Film Festival (DIFF) in 2019, it won the Durban FilmMart's Sørfond-Norwegian South Fund Award.
It was at the Durban FilmMart, where C.J. also served on a jury for short films, that he and his producer, Oge Obasi, met a senior programmer from Sundance. "To be fair, it wasn't a traditional submission," C.J. told me. "After pitching the project, which at the time was still in development, and receiving a favorable response, we kept the line of communication open. As soon as a cut was ready, she was the first person to view it, and here we are."
Mami Wata's movement is even more impressive, and significant for Nigerian filmmaking, when one considers that Sundance is not the most prestigious festival that has welcomed it. That was Venice Film Festival, last year, where it was also the first Nigerian film to be selected. Venice, the world's oldest film festival, ongoing since 1932 in Italy, is considered one of the Big Three alongside Cannes, in France, and Berlin, in Germany; and one of the Big Five, with Sundance and Canada's Toronto International Film Festival, the biggest in North America. Venice's selection committee is known for rejecting even Oscar-track films by major Hollywood directors, including, this year, Sam Mendes' Empire of Light and Edward Berger's All Quiet on the Western Front, and, last year, Joel Coen's The Tragedy of Macbeth, Kenneth Branagh's Belfast, and Reinaldo Marcus Green's King Richard.
But C.J. told me that they did not struggle to get into Venice. "We submitted like everyone else," he said of the festival's 2021 Final Cut, a post-production workshop with projects seeking funding. "The selection committee watches rough cuts of every film in submission and makes their selections. And it was indeed a huge honor to be the first Nigerian film there. It was a great experience, and Venice is magical. Hopefully, that opens more doors for Nigerian filmmakers."
Producer Oge Obasi, whose work on Mami Wata got her into the year-long EAVE Producer's Workshop in Luxembourg, Serbia, and Germany, in 2019, told me that, "spiritually, it is the most fulfilling project I've ever worked on." Her resume spans a range of speculative genres, including the individual films by C.J., as well as mystery with The Figurine, but producing a black-and-white film, with Mami Wata, was a first for her.
"It was challenging in scope, ambition, and style," she said. They'd placed a casting call for a West African actress and received hundreds of submissions. Once C.J. saw the video of the Ivorian actress Evelyne Ily, he knew they'd found their lead. "That's Prisca," he said to Oge. The supporting role of Zinwe went to the Nigerian actress Uzoamaka Aniunoh and actor-director Emeka Amakeze joined as Jasper.
With a cast and crew from about seven countries around the world, they began shooting in Dahe, Bopa, Possotome, Grand Popo of the Mono Department of Benin Republic. But a problem arose. "Right before the shoot, our equipment partner pulled out abruptly, with no explanations whatsoever," Oge said. "Every aspect of the production took a big hit once we had to pay cash to rent equipment. The ripple effect was a hard blow that lingered for a long time."
Principal photography finished in January 2021, and in September, they went to Venice. Next month, January 2023, Mami Wata will swim to Sundance.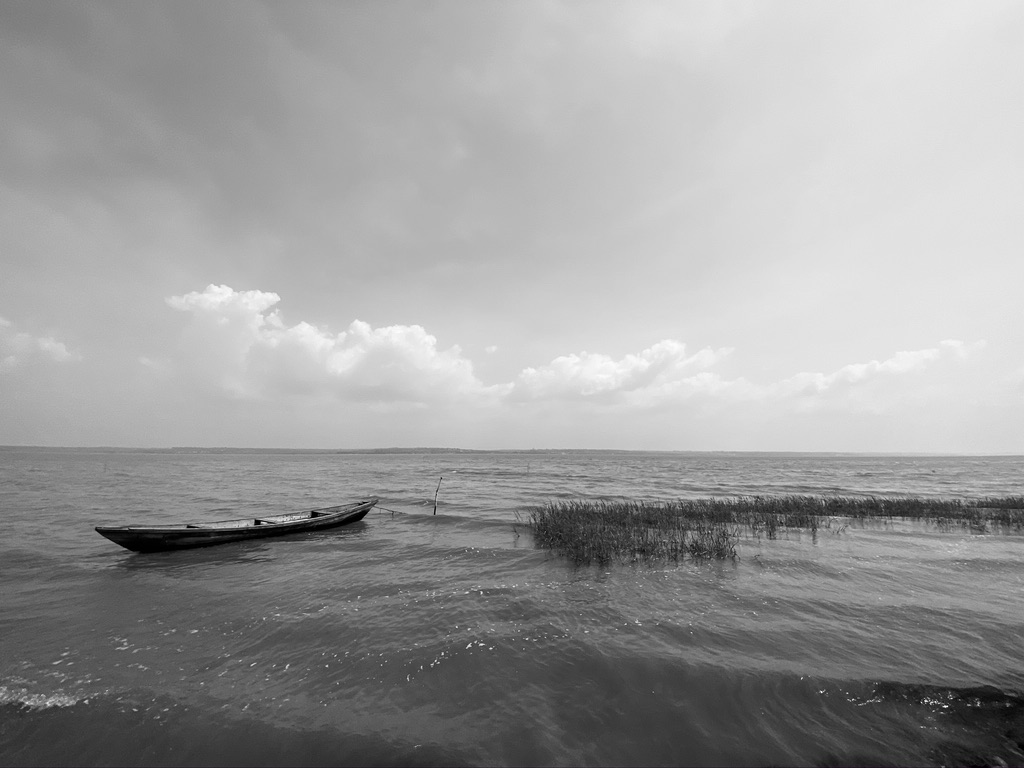 "Sundance is no joke," said C.J., who has writing credits on Genevieve Nnaji's Lionheart and Ramsey Nouah's Living in Bondage: Breaking Free. "And it is the absolute peak, as far as film festivals go. So there are several things to put in place pre-Sundance. Fortunately, I've been blessed with a fantastic team." They include line producer Adaugo Uzoma, Brazilian cinematographer Lilis Soares, and, beyond them, C.J.'s sales team at Creative Artists Agency and their Nigerian distributor FilmOne. "There's a lot of structure and intention in how we plan to roll out, even after Sundance," he added.
Mami Wata is produced through Fiery Film, which C.J. and Oge cofounded with Benjamin Stockton, an American science fiction writer who died in 2016. Oge told me that she hopes for their growing international audience see how their studio "is here to offer new possibilities to cinema goers, and new ways to experience Africa and the world through genre-films and TV." Their style is "not rooted in mindless entertainment but in meaning and in a search for balance."
When the Sundance news broke, Mautin Olorunleke, who executive-produced the film through his Guguru Studios, tweeted that he'd emptied his bank account to fund it. Friends had warned him against investing in a black-and-white film because no one would go to see it. Still, he sold his personal vehicle to bail out the production.
"I believe that telling stories should be true to our roots and should be original," Olorunleke told me. "I believe in telling stories the way we know how to, not trying to be like Hollywood. Growing up, I was a fan of folklore, and here is a story centered around a Mami Wata. It's different, it's new, it's exciting. Instead of saying, 'What if it goes down?' I was focused on, 'This is going to blow.' If it didn't make money, I'd probably be starving. But I wouldn't have it any other way."
C.J. once revealed that shooting Mami Wata nearly killed him, that doing it during the Voodoo Festival in Benin Republic caused him to experience supernatural phenomena, and that he may write a book about it. The first film he thought similarly about, OJUJU, went as far as getting a favourable review in The Hollywood Reporter. Now Mami Wata is on a different level of recognition. "We tapped into something beyond us while making this one," Oge said. ♦
Mami Wata is a Fiery Film presentation in association with iFind Pictures (France), PalmWine Media (Nigeria), and Guguru Studios (Nigeria), with post-production financial support from Les Ateliers Yennenga (FESPACO) and Swiss fund Visions Sud Est. The Sundance Film Festival will take place from January 19-29, 2023.
If you love what you just read, please consider making a PayPal donation to enable us to publish more like it.
More Essential, In-depth Stories in African Literature and Nigerian Film & TV
— The Methods of Damon Galgut
— Chimamanda Ngozi Adichie Is in a Different Place Now
— How Teju Cole Opened a New Path in African Literature
— Awaiting Trial: Families of SARS Victims Speak in Devastating Documentary
— How Dakore Egbuson and Tony Okungbowa Traverse Trauma in YE!
— Mark Gevisser's Long Mission of Queer Visibility
— How Lanaire Aderemi Adapted Women's Resistance into Art
— Writing Omo Ghetto: The Saga, Nollywood's Highest Grossing Film of All-Time
— Country Love Depicts Tenderness in LGBTQ Lives