Wapah Ezeigwe's short film Country Love is a tale of romance, queerness, memory, and redefining the idea of home. Shot in Enugu State, Nigeria, it follows a young man, Kambili, who returns home after fifteen years and finds out that it is no longer a haven.
Ezeigwe, who identifies as non-binary, wrote, produced, and directed the film, through their company Pink Coffee Productions. The idea came while they were an undergraduate at the University of Nigeria, Nsukka.
"I was reading through one of the editions of The Muse [the university student literary journal] and I came across this poem titled 'Stay,'" they said. "I can't even fully remember the content of the poem or even the poet, but that title lingered. It brought a melancholic feeling about someone leaving and refusing to stay, even though their departure would cause deep sadness."
A graduate of English and Literary Studies, Ezeigwe said that although literature plays a huge role in their artistic identity, film resonates more with them. They recall watching Steve McQueen's 12 Years a Slave and feeling a connection with the character Patsey, played by Lupita Nyong'o; they knew almost every dialogue by Patsey and performed her character in front of a mirror.
"Characterization in film really entices me," Ezeigwe said. "I admire that artistic power to simply create someone or something, to create a situation surrounding a character, to simply tell a story about a character. That instinct was sort of a natural and constant urge."
After university, Ezeigwe studied Film Directing with PEFTI Film Institute and took an online scholarship course with Sundance Collab. They are currently among 20 young West African filmmakers selected for the MultiChoice Talent Factory 2022. They take inspiration from the films of Spike Lee, Woody Allen, and Alejandro González Iñárritu.
The process for selecting the cast, crew, and locations for Country Love was strenuous. Ezeigwe wanted to cast only queer actors for the roles of the queer characters, but for a while, no one was willing to take on the roles. Some actors that Ezeigwe approached, especially heterosexual actors, suggested a rewrite of the intimate scenes.
"I wasn't willing to compromise any of my artistic vision," Ezeigwe said. "When I was looking for a shooting location, I remember going from one lecturer's quarters to another and getting a full-blown no. I felt miserable. The fact was, I was making a 'queer film' and I had to be very picky about the places I choose to tell the story."
But it wasn't just about their aesthetic vision. "I didn't want to expose my actors to any sort of homophobic attack or maybe some altercation. I had to lie to a lot of people a lot of times and I don't even feel sorry for lying to them. There were no two ways about it: the story is 'abominable' to society, but the story must be told because it is worthy to be told and the only way to get it done was to be intentional with what I say and to be very unapologetic about saying them!"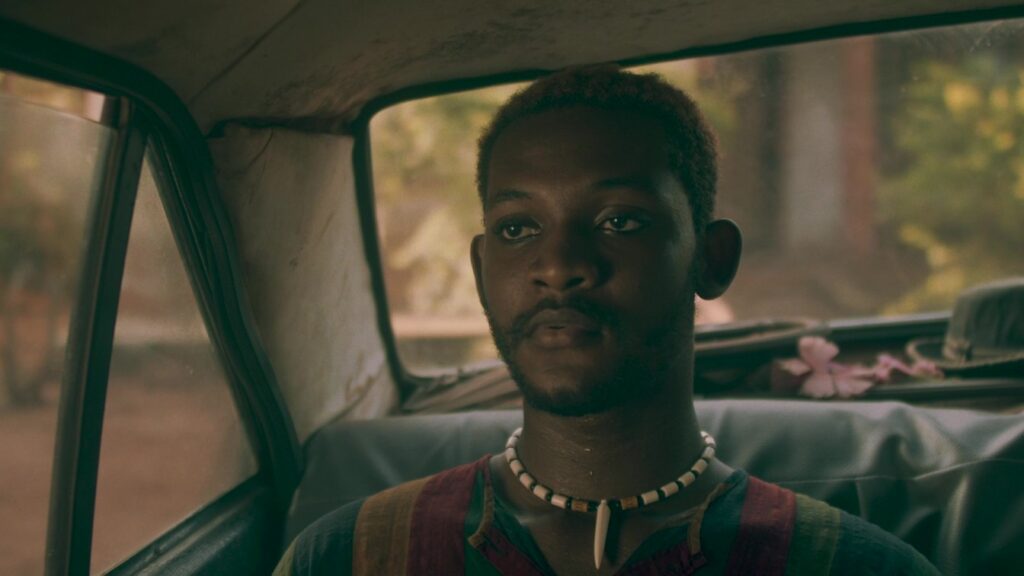 Country Love was shot in four days because of a limited budget. The main cast includes the lead Kelechi Michaels, who plays Kambili; Divine Ahiwe, who plays Kambili's lover Ifediora; and Uzoamaka Onuoha, who plays Kambili's sister Nneka. On the last day of the shoot, Ezeigwe was overwhelmed with exhaustion. Aside from budget, they also battled with doubt. Now they are happy and are planning to enter Country Love for film festivals around the world, before a formal release.
Ezeigwe revealed more plans. "I am looking to have another short film by the third quarter of 2022—a road trip film which I am already sending out the script to my draft readers!" they said. "I really want to be gradual with this whole process of becoming better at my craft and strongly identifying with my niche and my voice. I want to make more short films now while I wait on the muse to lead me on when to make my debut feature film."
Country Love joins a growing list of Nigerian films and documentaries about LGBTQ life. These projects—Giselle Bailey and Nneka Onuorah's The Legend of the Underground (2021), Uyaiedu Ikpe-Etim's Ìfé (2020), Harry Itie's Defiance: Voices of a New Generation (2020), Aoife O'Kelly's Walking with Shadows (2019) Tope Oshin's We Don't Live Here Anymore (2018), Oluseyi Amuwa's Hell or High Water (2016), and Habeeb Lawal's Veil of Silence (2013)—highlight the resilience of filmmakers in telling their stories with honesty and accuracy.
"I am happy there are a few Nigerian films that have set the pace," Ezeigwe said. "I have only added to that archive of true representation, and I want to see more filmmakers, particularly queer filmmakers, deliberately tell queer stories. If we do not tell our own stories, nobody will."
But Ezeigwe is very interested in "the right representation of queer desire in cinema," they added. "There should be a conscious effort in portraying queer desire from a place of authenticity and genuine love. We should first talk about what love truly feels between humans, and not gender, then we should address that imagination that people have about two men in a relationship."
As a femme queer person who is non-binary, nothing makes them laugh more than "that silly notion of 'masculinity' and toughness and roughness as the valid portrayal or image of what queer desire looks like or should look like."
They continued. "I find that very offensive, because it cancels queer diversity, and then when people, especially heterosexuals, think of two homosexual men in a relationship, it is imagined to be some sexual battle, when in trueness two men can be tender and mild and pampering towards each other because that is exactly what love feels like—two men in a sexual exploration can be romance, can be erotic, intense, and subtle because homosexuality is never about 'masculine' presentation or masculinity. I am keen about dismissing that idea that separates queer bodies from love and tenderness."
If you love what you just read, please consider making a PayPal donation to enable us to publish more like it.
Watch the trailer for Country Love:
More Spotlight Features from Open Country Mag
—Shugri Said Salh on Writing Her Life in the Somali Desert
—After 3 Books in 3 Years, Logan February Is the Youngest Winner at The Future Awards Africa
—Arinze Ifeakandu's Debut, About Queer Men in Nigeria, Acquired by A Public Space Books