As the new home of Folio Nigeria, a subsidiary of Folio Media, Open Country Mag is republishing culture stories that first appeared on the site under its CNN affiliation. This story was first published in 2020.
Nengi Nelson got her start in photography as an assistant to a male wildlife photographer, carefully learning the ropes, paying attention to the art. But she soon got dissatisfied with his process, the way he spent too much time waiting for "the perfect shot." She sought a new direction to realize her own vision. Her chance came in 2015 when a friend gifted her a Rebel T3i, setting her on course for what she describes as "a beautiful journey" into portrait and documentary photography. But what could have been an entirely pleasant experience is complicated by a reminder of her status in the industry and in society.
In October 2020, Nelson took to the streets to document the End SARS protests. While she was in a crowd, trying to get her angles, one of the young men protesting injustice reached out and touched her inappropriately. When she turned around to identify who had done that, she found a group of men mocking her, making vulgar jokes about her body. For her, it was not a rare occurrence.
"I know for certain that a man would not have experienced that," she tells me. "I was worried about my safety when I started shooting events, and they would mostly run late into the night. I have often presented myself in ways that do not allow for unnecessary remarks about my body and talent. But when it happens, I shut it down immediately."
In Nigeria, photography is dominated by men. And according to Sam I Am Photography, an international production agency, 85% of photographers globally are male. Among the clientele of top talent agencies, women account for less than 25%.
With men behind the lens, photography has historically treated women as objects of voyeurism, as deconstructed in The African Lookbook, which documents and examines photographs of African women shot between 1870 and 1970. But even as more women enter the field, the culture of erasure is yet to become history.
Some of the younger women are constantly told that there is no space for them. This was the experience for Kathryn Kubiangha, 19, a Tourism Studies undergrad at the University of Calabar. Her love for photography had been fueled by images she found on Instagram. She took an online professional course and was gifted an entry-level Canon DSLR camera. But in one of her earliest work environments as a photojournalist, her co-workers were a problem.
"I had mostly male colleagues and I experienced a lot of unwarranted sexual advances and harassment from some of them," she says. "You, a male photographer, goes for an event, sees a female photographer there, and the first thing you do is to move to her and tell her what she should or should not snap, which angle she should take the pictures at because, 'Look at me, I'm a man. I must know the job better than her.' Very stupid behaviour."
Another unpleasant experience was at an event in Port Harcourt when older men at the ceremony kept asking her if she knew what she was doing, suggesting that the event organisers should have hired a man instead.
"I'm especially annoyed when I constantly have to explain myself and refute claims that I am not qualified enough for the job I am supposed to do because I am female," Kubiangha says. She also admits a growing indifference. "Really, things like this happen often enough that I'm barely fazed by it anymore. How I handle the sexism for the most part is that I just try to be extremely professional. I basically just ignore any remarks not directly related to how the job is being executed."
More female photographers — Toluwanimi Kunle-Ajagbe, 23; Dr. Shola Balogun, 28; Iyesogie Ogieriakhi, 23; Nifemi Oluwadare, 26; and Joy Ndukwe, 25 — had entered the industry unsuspecting.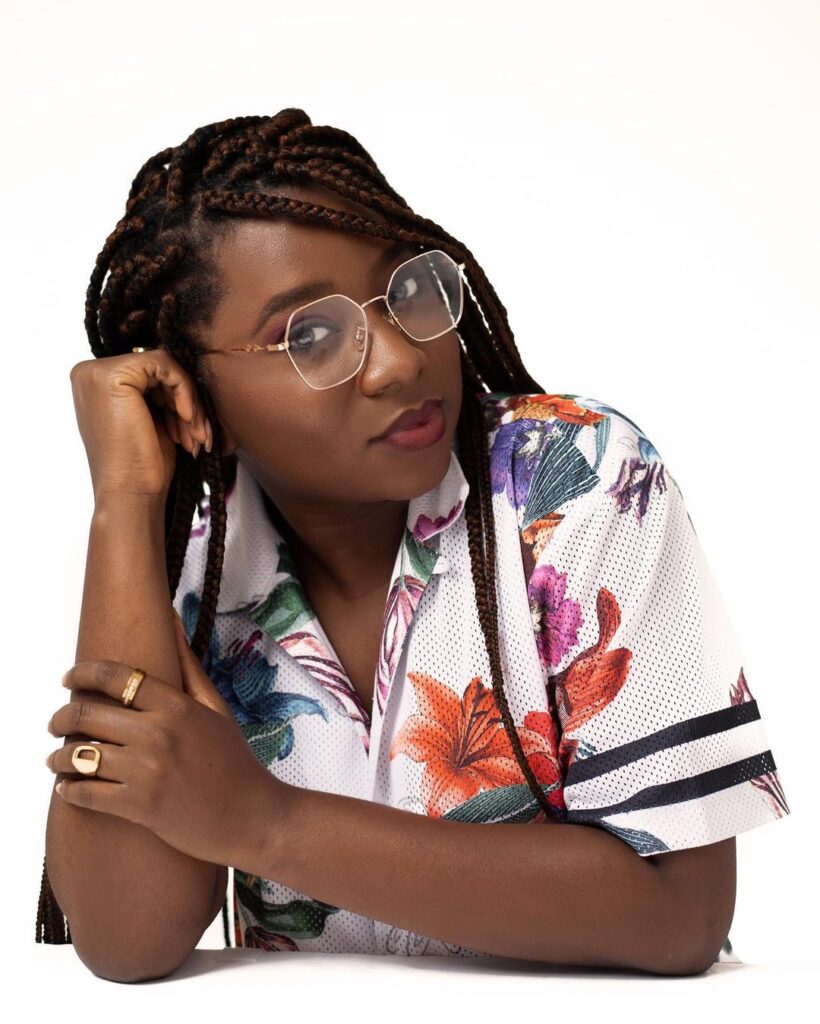 Dr. Balogun, a high-profile wedding and portrait photographer, was in her second year of medical school, in 2010, when her father gifted her a pocket camera. She walked around the University of Ibadan campus taking random pictures of everything, she recalls, "from rotten mangoes to dew on blades of grass to portraits of random strangers." Back then, she had no commercial motives; she did not even know of the existence of a photography industry.
Oluwadare, another portrait and event photographer and documentarian, was influenced by a friend from church. "I fell in love with how he took pictures back then, the zeal, the different postures just to get the perfect shot," she says.
Ogieriakhi loved having pictures of herself taken and got tired of asking her siblings. She started learning by herself and soon moved to taking pictures of other people, realizing along the way that she could make a job of it.
But for Toluwanimi Kunle-Ajagbe, the motivation was not necessarily love but responsibility. "I used to write a lot and I never really found pictures to match my writings," she says. "On websites that had stock pictures, there were only white people." To help populate the web with people who looked like her, she took to photography in 2017.
Like Kunle-Ajagbe, Ndukwe was also a writer drawn to photography as a way to extend her artistic range. Having developed a desire "to tell more stories," she felt limited by her primary medium: poetry. A friend suggested photography.
Yet despite their different backgrounds and lanes, they came to the cold awareness that they are female in a male-dominated industry.
"It pisses me that people do not trust that a lady can handle their job, so they would rather go for a man instead," Kunle-Ajagbe says.
"Many times, I show up to a shoot and everyone is expressing shock at the fact that I am a woman," Dr. Balogun tells me. "I remember always falling ill after shooting a wedding because far be it from me to not shoot like my life depended on it. I reckon now I was subconsciously fighting the bias of being 'weak.' I could keep up and I did."
Oluwadare had to develop a coping mechanism. "I try not to act too 'weak,' as they say," she explains. "I try to meet up to standard so clients don't look down on my work simply because I am female."
Despite the peculiar struggles of being female in Nigerian photography, the industry does have accomplished women among its stars, including TY Bello, Aisha Augie-Kuta, and Mofe Bamuyiwa.
The official photographer to former president Goodluck Jonathan, Bello's power and influence in the industry are unmatched. In 2016, her shoot with UK popstar Tinie Tempah was photobombed by a bread seller named Jumoke Orisaguna, who was just passing by. The coincidence catapulted Orisaguna to social media fame, leading to profiles by CNN and BBC News Africa, an appearance on the cover of ThisDAY magazine, and a coveted modelling contract.
Owner of the famous BMB Studio, Bamuyiwa's portraiture work ranges from body positivity to childhood to family. In 2018, her photograph of then-five-year-old Jare Ijalana, dubbed "the most beautiful girl in the world," vent viral, drawing attention from Yahoo, BET, The Sun UK, Essence, and Daily Mail.
Augie-Kuta's work — which spans film, photography, and painting, and explores gender, identity, and culture — won her the Creative Artist of the Year Award at the 2011 Future Awards. She has since served as Special Adviser (Digital Communications Strategy) to the Federal Minister of Finance and represented the Nigerian visual arts sector during a meeting with Prince Charles of Wales at the British Council, Lagos, in 2018.
But the successes of Bello, Bamuyiwa, and Augie-Kuta underscore how the industry only welcomes one class of women.
"Nigeria is beginning to embrace that women are great photographers, but you have to be a big name before they can work with you," Ndukwe tells me.
Kubiangha understands this and is making plans. "I'm currently delving into videography as well and focusing more on writing. I think the combination of all three and the ideas I'm going to execute when I get my Tourism degree will create a niche for me. I'm already aiming to be published in at least 10 magazines within the next one year, so in five years, there's really no telling."
Some are also dedicated to challenging the male gaze in their work. About The African Lookbook, Ndukwe remarks, "It challenges me to tell more stories about women because I am a woman, and a man cannot tell my story from my perspective. It's up to this generation of women photographers to document women and do it with empathy, connection, and privilege."
Kabiangha is not necessarily sold on the idea of actively challenging the male gaze. "I'm just more inspired to make a conscious effort to document women in my photography," she tells me. "Just for simply showcasing a female perspective and telling certain stories about women from my own point of view."
All of the women know, though, that sexism is no match for their dreams and skills. While Oluwadare is encouraged by the bond she forms with her clients, others, like Ogieriakhi, have sought kinship in their professional group.
"I found a community of other like-minded female photographers and this has been a great support system for me and my growth," she says. ♦
If you love what you just read, please consider making a PayPal donation to enable us to publish more like it.
More Stories from Folio Nigeria Via Open Country Mag
— The Women Weavers of Akwete
— Intissar Bashr-Kurfi Is Collecting Nylon to Save the Environment
— A 17-Year-Old's Hyper-realistic Portraits in Charcoal
— Against Sexism, Female Photographers Push Back with Skill
— How Taaoma's Comedy Skits Made Her a Social Media Phenomenon
No One Covers African Literature & Nollywood Like Open Country Mag
— How Dakore Egbuson and Tony Okungbowa Traverse Trauma in YE!
— Cover Story, September 2021: Chimamanda Ngozi Adichie Is in a Different Place Now
— Cover Story, July 2021: How Teju Cole Opened a New Path in African Literature
— Writing Omo Ghetto: The Saga, Nollywood's Highest Grossing Film of All-Time
— Country Love Depicts Tenderness in LGBTQ Lives
— Cover Story, March 2023: Rita Dominic's Visions of Character
— The Making of Mami Wata, Nigeria's First Film to Premiere at Sundance
— The O. Henry Prize Series Opens to African Magazines (Exclusive)
— Binyavanga Wainaina's Great Scatter of Work (Exclusive)
— The Epic, Transformative Comeback of Chidi Mokeme
— Adeola Osunkojo on Directing the Romances of Love Like This