In 2017, two graduates of the University of Ibadan, Habeeb Kolade and Dolapo Amusat, led the launch of a new magazine of literary and art curation. Months before, they'd edited and published an anthology of writing by the university community. But they wanted more, "something more stable and functional," Habeeb tells Open Country Mag. "I was interested in creating an African platform that provided a space for creative Africans." Agbowó Magazine was that space.
At the time, Habeeb opined, most African creatives favored the sturdiness of foreign magazines and sent most of their work there. The intent of the founders was to match editorial excellence with structural diligence.
In August 2018, their inaugural issue, X, went online, featuring contributions from notable writers including Romeo Oriogun, Logan February, Gbenga Adeoba, Toni Kan, Kola Tubosun, and Tade Ipadeola. The X issue was followed by Limits (July 2019) and Memory (July 2020).
The magazine places writing in conversation with photography or painting. It has published visual work by Niyi Okeowo, Penda Diakité, Bobby Archibong, Marc Padeu, Akhona Mbange, and Mayowa Alabi, who designed Descent, the cover art of the magazine's latest issue Chaos.
Moyosore Orimoloye, executive editor for all the four issues, wrote in his Editor's Note that "by embracing chaos, the artists in this issue cast doubts on the mythological truism of the act of creation, and by extension creativity, being a fashioning order out of the chaotic world—out of a formless world. They attest that, as long as humans and language exist, the world remains formless."
Orimoloye believes that the submitted pieces prove the theme's inscrutability. "Maybe poets and visual artists are more accustomed to expressing the nebulous, but what about writers of fiction and essays on whom the burden of plot and lucidity is often placed?" he asks.
"It becomes a more arduous task for workers in these genres," Orimoloye says. "Which is why we so loved Erere Onyeugbo's 'Gravity god' and Bayo Aderoju's 'Ado' which, while written in followable fashion, are able to evoke describable feelings of unease. Rather than works that sought to explicitly describe and label the chaotic, we looked out for works such as these that, instead, evoked the feeling."
Agbowó Magazine expanded after its first issue, into an arts organisation of the same name. In 2019, it acquired an events platform, ArtsnChill, and got a Goethe Institut grant. "We encourage arts and event organizers to share their events with us so we could promote them and make them accessible to our audience," Habeeb says.
In two weeks, ArtsnChill will have its first event since the pandemic started. It offers free services, but this will change.
The Agbowó organisation's third subsidiary is Published, through which it releases chapbooks and anthologies, including In Our Words: African Women's Perspectives on Gender Equality and Young African Poets Anthology, curated by Open Country Mag staff writer Ernest Ogunyemi.
"We intend it as an actual publishing arm," Habeeb says: "you pitch your idea to us and, if we are cool with it, we work with it."
Writers published by Published will be promoted via book tours with ArtsnChill. The events platform will, within five years, move to "every major city we can find. Something like TED, but for African art. We will call up all our contacts to set up events."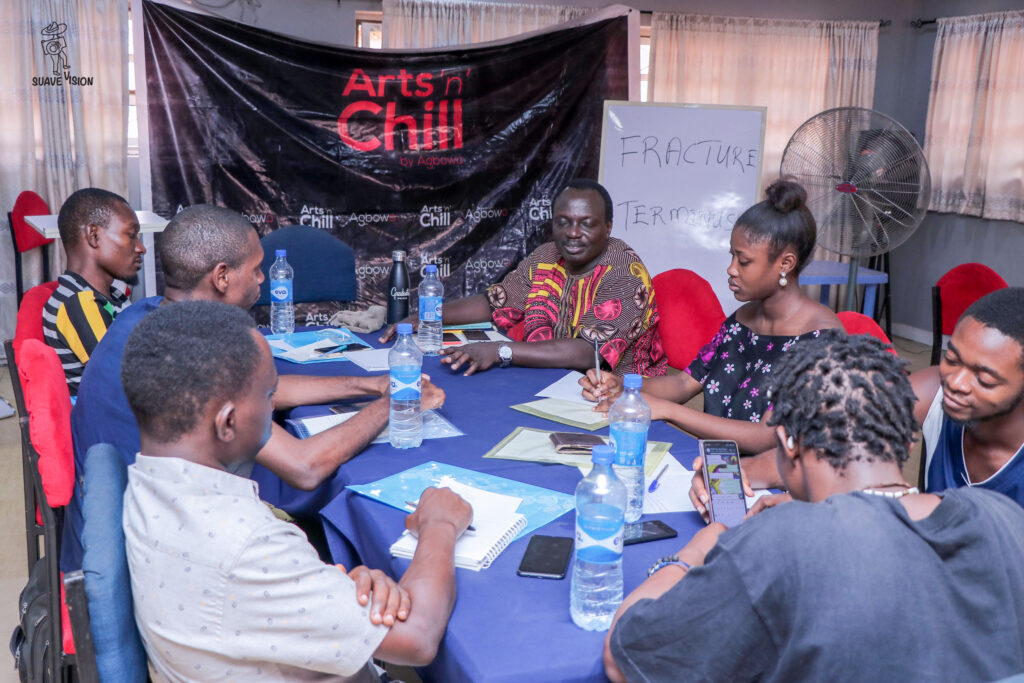 Agbowó is "a platform for African artists to showcase and get value for their work," Sheyi Owolabi, the magazine's visual arts editor, says. "We want to get to a point where we'll be able to help artists sell their works and get the best value for said works."
Agbowó Magazine, which pays $75 for essays and $25 for a single poem, is part of an ongoing literary magazine bloom in Africa, led by a generation of young editors and writers. They include the essays magazine A Long House, the poetry organisation 20.35 Africa, the LGBTQ voices platform Dgeku, the Namibia-focused Doek!, and Lolwe, which offers online creative writing classes. Agbowó Magazine is funded by donations from the founders and the board of directors.
"In my eyes," Orimoloye says, "Agbowó's purpose is to hold a space where it is unnecessary to be someone else, code-switching and concern-switching in every new paragraph. A space where the writer can be unencumbered by concerns about legibility for the foreign editorial eye."
The organisation's quality production can be credited to its democratic strategy. "To battle fatigue," Habeeb says, "we were deliberate in creating a transition process, such that the older team members can either move to new roles or continue to support the organization in other ways, while we bring on new hands."
This process has seen the editorial trio of Moyosore Orimoloye, Kunle Adebajo, and Olu Afolabi move on from their roles as Editor-in-Chief, Non-Fiction Editor, and Poetry Editor, respectively. Taking up those roles are the poets Adedayo Agarau, Hauwa Shaffi Nuhu, and Nome Emeka Patrick.
Adedayo touts the magazine's steady mission "as an archive of African literature." "Agbowó stands out when it comes to aesthetics," he says, "because of its patience with details, and its attention to how that both contrasts with and reflects the bodies of work as a collective issue." The magazine's attention will remain on creatives and their works: recommending their works for prizes and creating opportunities.
"More importantly," Adedayo adds, "we intend to publish from everywhere in Africa, amplify under-published and underrepresented voices, create a route for readers to find works from places they barely imagine. And we will do this by discovering emerging and platforming established voices."
More Stories from Open Country Mag
— Cameroon's New Literary Generation Comes of Age, as Anglophone Crisis Deepens
— The Making of Songs We Learn from Trees, the First Anthology of Amharic Poetry in English
— Kathēkon, the Nigerian Organisation Founded to Fund Change